8th Leaden Boot Challenge: Sunday 20 May 2018
Update 25 May 2018
That should be all for this year.  The date for the ninth Leaden Boot Challenge has been agreed as 19 May 2019.  Bookings will be taken from 1 October 2018 and booking forms will be available on this page late in September.
Update 24 May 2018
Thank you to everyone who helped to make Sunday such a happy and memorable day and congratulations to all the amazing people who succeeded in the 8th Leaden Boot Challenge.  We hope to see many of you again next year.
Update 16 May 2018
Things are hotting up at LBCHQ and this week we are trying to concentrate on arrangements for route marking and our legendary refreshments.  If you have not received an email with your Entry Number, please check your spam and junk folders before emailing admin@leadenboot.org.uk.  You should get a prompt response but we would be very grateful if you would try to wait 24 hours for a reply before phoning us.  Thank you.
Update – 12 May 2018
One week to go and the recky team completed the whole route yesterday in excellent weather – cool, calm and dry.  We are hoping it will be much the same next weekend.
The route instructions have been updated once again so please use the following Version 13.  The main change is at Ilam where there has been a landslip above the boil holes so you have to leave CP1 via the Italian gardens before going down to Paradise Walk – don't worry as it will all be signposted on the day.
Also, shortly after Sheen Hill (SK106624), we have been asked to follow the footpath as shown on the OS Map and go to the left of the house, rather than to the right as we did previously.
Good luck everyone!  We look forward to seeing you next weekend.
Update – 4 May 2018
Just over two weeks to go!  The countryside has started to dry up and is looking at its most beautiful.  We have been out checking the route and here are the final instructions and the route instructions which have been amended slightly since last year.
Please check out this website just before you leave home for the challenge just in case we have to make any changes.  We look forward to seeing you early on Sunday 20 May.
Update – 28 March 2018
In Alstonefield the snow has almost gone and most of us are wishing it will not return this winter.  We hope your training is going well but if, for any reason, you need to cancel, please let us know before 1 May so that we can refund your entry fee, less a £5 admin charge as stated in our Ts and Cs.
Update – 1 March 2018
The waiting list for this year's Challenge is now full so we are not accepting any more entry forms.
Update – 31 January 2018
All available places for the 2018 Leaden Boot Challenge have now been allocated. We know from previous years that about 10% of entrants who book early find that they have to cancel, so we have a waiting list limited to that number.  As we only offer places to serious entrants we are confident that we shall be able to accommodate everyone on the waiting list.
If you wish to be on the waiting list please let us have your entry form and payment.  People are put on the list as soon as we have received both their entry form and their payment.
We will return payment in full to anyone on the waiting list that we cannot accommodate.
Update – 10 January 2018
Happy New Year everyone. Those of you who are following us on Facebook will know that we have only fifty places remaining for this year's challenge, so do not delay if you wish to book.
Update – 14 December 2017
Just over five months to go and we are very nearly two thirds full. While outdoors Alstonefield is looking beautiful in the snow, we have been busy indoors responding to bookings received both on line and by post. We wish you a Happy Christmas and a fit and healthy 2018. And if you would like to keep in touch with Leaden Boot HQ, please take a look at our Facebook page at
https://www.facebook.com/groups/125600467519292/
Update – 11 October 2017
The challenge is to walk or run 26.2 miles in 12 hours over a stunning high level route in the Peak District which includes over 5800ft of ascent and descent. The challenge starts and finishes at Alstonefield Village Hall.
Entries for the 2018 challenge are now being accepted both by post and electronically. Please don't forget to make payment with your entry form.
Entry fee: £25: includes snacks and beverages at 6 manned checkpoints, a hot pie supper at the finish, certificate and badge for successful entrants. BBQ breakfast available. We shall expect to be fully booked by January 2018. Please note that, this year, entries will only be confirmed once payment has been received.
Please note the lower age limits presented in item 5 of the T&C's.  These have been introduced to comply with LDWA, UKA and HSE guidelines .
If you have any questions/ comments please do not hesitate to contact Carrie Ross, Leaden Boot Secretary, at carrie@brianandcarrie.co.uk. 
Leaden Boot Challenge 2017
Click here for a List of finishers 2017
Click here for photos of the day 2017
Once again we had almost perfect weather for this year's challenge. Of the 295 starters, the great majority were able to finish. Congratulations to them all.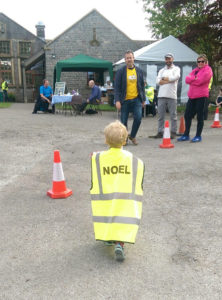 Many many thanks to over 50 helpers without whom there would have been no 2017 challenge. We are very proud to say that this is truly a community event, and that many groups in the community will benefit from the funds raised. Thank you to all who contributed. We look forward to seeing you again next year.
We are very sorry to say that Noel has died suddenly and unexpectedly. In accordance with the wishes of his family, the 2017 challenge will run as planned on 21 May.
Refunds for those who have already booked but wish to cancel will be at the discretion of the Leaden Boot Committee.  There will be no refunds after 30th April 2017.
*************************************************
So, what is the Leaden Boot Challenge?
Lead stolen from the church roof of St Peters, Alstonefield in 2010 prompted numerous fund raising activities within the Parish to raise £10,000 needed to re-lead the roof and to introduce a security system.  One of the many fund raising schemes was the development of a challenge event centred around the Parish.  A small team of local walkers sought to create an event that was both challenging and fun!
The result is the Leaden Boot Challenge, a 26.2 mile walk/run that entails 5800 feet of ascent, and descent, starting and finishing in the White Peak village of Alstonefield. Start at the Memorial Hall in the centre of Alstonefield at 09:00 and finish no later than 21:00 (12 hours maximum). Hot breakfast rolls are on sale at the start to help you on your way. There are six manned checkpoints (plus two unmanned checkpoints), spaced approx 4 mile apart. Each manned checkpoint has water, squash, snacks, first aid facilities and radio-communication, provided by RAYNET, between checkpoints and the Memorial Hall for additional support as required. Locally made pie and cakes are provided for all participants at the finish (included in entry fee). Certificates and cloth badges will also be given at the finish for those who successfully complete the challenge.  Although principally a challenge walk (following LDWA guidelines), the event is open both to walkers and to runners.  The shortest time to complete the LBC is 4 hours 22 minutes set by Damian Thacker in 2013.
Following the success of the various appeals to reach the initial goal of £10,000 by August 2010, the Leaden Boot Challenge has moved on and now supports local good causes.  To-date, the event has raised over £25,000 for a variety of local causes.
The elliptical route minimises the use of the more popular trails and other challenge routes around the Staffordshire Moorlands and Derbyshire Dales. Starting from Alstonefield, the route goes through Milldale, over Baley Hill, into Nabs Dale, across the Dove at Ilam Rock, climb to Aires Cottage, then descend Bunster Hill, past Ilam Hall, through Musden Woods and up to Slade House Farm, then past Throwley Hall, through Grindon, across the Manifold at Wetton Mill, over Ecton Hill, Hulme End, Sheen, around Sheen Hill, across the River Dove at Pilsbury, Hartington, Beresford Dale, Narrow Dale and back to Alstonefield.
Thank you all for your continued support.
*************************************************
Why not join the Vicar in the unique in the Old School garden
 just before you set off
============
Accommodation
If you require overnight accommodation, there are several B&B's, youth hostels and camping barns in the area. Click on the Accommodation links to the right, under Visitors.
===============
===============
6th Leaden Boot Challenge : 22nd May 2016
Another wonderful event, with almost perfect weather.   Despite the mud and slippery conditions at some locations, all those that we spoke with thoroughly enjoyed the day from every aspect.  
Thank you all for joining us, and a huge THANK YOU to around 50 volunteers who make the so day special, RAYNET emergency communication team and the Salop Medical Support team.
This year, we gave almost £4,700 to local good causes: £1,320 to Alstonefield Village Hall, £1,800 to St Peters Church, £882 to Wetton Village Hall, £498 to Alstonefield Local History Group and £196.47 to Alstonefield Village Emergency Telephone System.
Please click here to view a list of times:  2016 LBC times
Thank you to our sponsors for their support of the 2016 Leadenboot Challenge:-
National Trust, Ilam
White Peak Farm Butchery, Tissington 
Hartdale Motors, Hartington
Slade House Farm, Carlton
Hartington Village Farm Shop and Tearooms
Marks & Spencer, Ashbourne
Failure Characterisation Consultancy, Milldale
*************************************************
2015 Leaden Boot Challenge:  An outstanding success!
This year the weather was kind, enabling more entrants to finish and most to better their previous years' times. The fastest was Andrew Hunter in a time of 4 hrs 25mins. Nick Pope of Butterton was first local home in 5 hrs 3 mins, but special mention goes to Peter Linley of Astonefield, just 15, who finished in 5 hrs 8 mins, raising nearly £700 for Cancer Research. First local lady home was Charlie Mollatt, also of Butterton in 6 hrs 54 mins.
But it needed 50 villagers from Alstonefield and surrounding villages to help make it such a success. So, whoever you are, and whatever you did to help so many people do so well, the Leaden Boot Committee would like to extend a massive THANK YOU!   It is directly due to you and your help, that we received such positive feedback: "we were made to feel safe and valued,'" and "brilliant, friendly, well organised". And as to the food: "outstanding pies and cakes"
Thanks also go to the farmers, land-owners and National Trust who helped ensure that it is indeed  "a great event with stunning scenery". And we can all agree with one runner who commented "It seemed like all of Alstonefield and beyond had come together to make it a really special event. Please keep it going for the future."
And the best news of all?   This year, we gave over £4,700, to Alstonefield Village Hall, St Peter's Church, Wetton Village Hall, Alstonefield Cricket Club, Wetton & Alstonefield Community First Responders and Alstonefield & District Friendship Club. Cheques will be handed out by the Chair, Noel Peat at the Wakes Service.
With grateful thanks to our sponsors:

2015 Leaden Boot Challenge Results click here: 2015 LBC Results
Images from the 2015 Challenge can be viewed by clicking here
E-mail for queries: admin@leadenboot.org.uk or telephone 01335 310000
……………………………………………………………………………….
 2014 Results List  CLICK HERE….. LBC 2014 result
To view the 2014 LBC picture gallery click on the image below
……………………………………………………………….
Leaden Boot Challenge 2016
Leaden Boot Challenge 2015
Leaden Boot Challenge 2014