Medical emergencies
Dial 999 immediately to be put through to the Emergency Control Centre, who will despatch an ambulance and give further advice. You can also ring for a doctor (see numbers below).
When a 999 call is received in the Alstonefield and Wetton area, our trained First Responders team is also immediately contacted and asked to provide emergency medical care until the paramedic, ambulance or air ambulance arrives. Operating under the auspices of the West Midlands Ambulance Service, the team aims to ensure a response within the national guidelines of 8 minutes. The Responder is able to give appropriate treatment, which may include oxygen, pain relief, and plenty of reassurance.
You can find more on the First Responders here.
In the event of a suspected heart attack, Alstonefield and nearby hamlets such as Milldale also has a group of volunteers who support a Village Emergency Telephone System (VETS). This team have been trained in how to recognise a heart attack, undertake CPR and operate the nearest defibrillator. You can ask the emergency 999 operator to put you through to the local VETS number or, having finished the 999 call, ring direct on (01335) 818911.  This one call will dial all VETS volunteers simultaneously until a helper is found.He or she can gather further assistance and bring the nearest defibrillator (e.g. from the village hall or Milldale) to the patient.
For information on giving CPR until help arrives and using a defibrillator, click here.
Medical help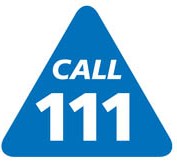 111 is the NHS non-emergency number.  It's fast, easy and free. Call this number when you need medical help fast but it's not a 999 emergency.
Doctors' surgeries:
Ashbourne Health Centre, Clifton Road Ashbourne, DE6 1DR (Doctors Macleod, Macleod, Curry, Ward and Vose)
Tel. 01335 230085  Website: www.ashbournehealthcentre.co.uk.
The Surgery, Clifton Road, Ashbourne, DE6 1DS (Doctors Broom, Ward, Shelly and Maxwell-Jones)
Tel. 01335 300588 Website: www.thesurgeryashbourne.co.uk
Hartington Surgery, Dig Street, Hartington, Buxton, SK17 0AQ (Doctors Hurst, Woods and Hugo)
Tel. 01298 84315  Website: www.hartingtonsurgery.co.uk.
Police
In an emergency, where life is in danger or a crime is in progress, dial 999.
For non-emergency calls and general enquiries dial 101. This number is part of a national system where you are put through to the nearest Police force to the location from which you are ringing.  If you want to speak with a different Police force, you are given a list of options from which to choose when you ring.
If you need any advice on policing issues or crime prevention, use the 101 number and ask for the Crime Reduction Dept or ask to speak to PC Andrew Beresford or one of his colleagues (PC Bridget Kelly, PC Paul Bolam or PCSO Paul Flowers). If there is no-one in the office you can leave a voicemail message. These are checked every duty day.
You can email Andrew at andrew.beresford@staffordshire.pnn.police.uk
They can also be contacted at Community Fire Station, Froghall Road (B5053), Ipstones, Staffordshire ST10 2NA.
More information: www.staffordshire.police.uk
Fire
In the event of a fire or other emergency, dial 999 immediately to be put through to the Emergency Control Centre, who will respond appropriately.
For fire safety advice, contact the Staffordshire Fire & Rescue Community Advice Team on 0800 0241 999 (lines are open from 8am-6pm, Monday to Friday).
More information: www.staffordshirefire.gov.uk.
This page is maintained by Cathy Reavy