We welcome all visitors to our events:
– at the Village Hall (Memorial Hall) – DE6 2FR
– at St Peter's church – DE6 2FX
Click here for car parking  information and here for maps and directions.
AVH Concerts (find us on Ents24.com – the UK's biggest live music guide)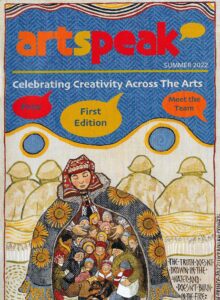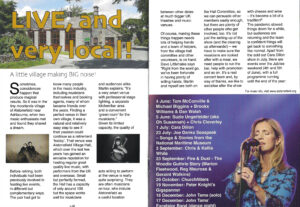 Regular high quality concerts take place in the hall, mostly on Saturday evenings but sometimes other nights. We like to feature a range of musical styles, such as folk, blues, singer-songwriters, jazz, Americana/ alt.country, etc. There is a licensed bar and all concerts start at 8pm unless stated (doors 7.30).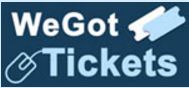 Tickets are available online at wegottickets.com. Click the logo to see a full list of concerts currently available to book or click here for a listing in PDF format (from July 2023). Our next show:
Saturday 8 July – JANA VARGA 
Jana Varga is a UK based, classically trained singer songwriter and multi instrumentalist. Her gospel influenced debut album 'Foreigner Face' was released in 2022 shortly before her UK tour supported by Help Musicians UK grant. The album was reviewed 'The stuff Carnegie Hall shows are made of' by FATEA magazine and rated 'one of the classiest records I've heard all year' by Paul Sexton (BBC, Billboard). Jana's musicianship is founded in the years of studying classical music and fused with her love of roots, gospel and jazz.
Jana was born in Slovakia and comes from a family of musicians – she studied flute and piano in Slovakia, Austria and France. She was a flautist in a prog rock band 'Persona Grata' selected to perform at 'Progressive Nation At Sea' 2014 festival in Miami, USA organised by Mike Portnoy of Dream Theater. Later that year, she was to become a flautist in Janáček Philharmonic Orchestra in Czechia when she decided to pursue the career of a singer songwriter and moved to London.
Besides classical music, Jana cites folk influences such as Janis Ian and James Taylor, jazz and fusion. Her sense of harmony and melody comes from building on tradition while constantly looking for surprise and disrupting musical expectations. Having to 'settle' down in several countries throughout her life, her lyrics often reflect struggles and challenges when starting from zero in a new environment.
'Amazingly beautiful' – Janis Ian
'A really classy sound, a fascinating mixture of styles and really original, as are the lyrics.' –
Paul Sexton (BBC, The
Billboard)
'The likes of Karen Carpenter, Clannad's Moya Brennan, Enya, Sally Barker and perhaps Vonda Shepherd all spring to mind, on hearing this gorgeous vocal talent. She's right up there with those stars in quality, too.' – Music Republic
Need somewhere to stay? There are several B&Bs and hotels nearby – the nearest are on this link. There are also many self-catering holiday cottages, although these will often require a minimum 2-night stay (link here). For more village options (caravan sites, youth hostels etc), click here.
---
A specification of the equipment used for hall concerts can be found on this  link (this may be subject to change, so please check if needed). We also have available a full-size digital Yamaha Clavinova piano keyboard (model CLP-411 – see technical specification here).
 This page maintained by Dave Littlehales and Martin Snodin