Show Date – Saturday 12th August 2017
Enquiries  to: Mark Simcock, MVAS Secretary, msimcock@harper-adams.ac.uk
Tel. 01782 503313 or 07971 961570
Directions to the Showground: From Alstonefield,  follow the signs to Ilam turning right just before the Watts Russell pub and then immediately sharp left towards Stanshope. Continue through Stanshope and after about a mile and a half you will see the Manifold Showground on your right-hand side.
Manifold Show 2016
Record numbers attend the 2016 show on Saturday 13th August.
Review – Saturday 8th August 2015
Beautiful sunny day for this year's Show. Fantastic entries from the children in the Handicraft Tent.
Review 
– 9th August 2014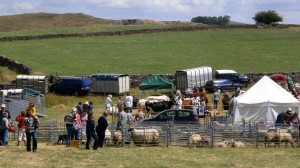 A lovely day and a great turnout at the Manifold Show!  As usual there were lots of Alstonefield entries in the Handicrafts classes (too numerous to mention!)  but  first prizes included Noel Peat for his '2 kinds of vegetables'  display,  Jean Allen for her 'Afternoon Tea'  tray and young Edie Hambleton for her character made of liquorice allsorts (pictured).  Cathy Reavy won the 'Brian Ross Memorial Trophy' for her photography in the 'Weather' class (pictured below). There were some wonderfully creative animals made by the children using fruit and veg.  Ella is pictured with her pineapple owl below, which received a third prize.
Saturday 10th August 2013 Review
Another great turnout for our well-loved Manifold Show, with its popular events and displays. There were many Alstonefield entries,  amongst them John Bonsall's first appearance in the young handler's class with his calf 'Cracker', where he achieved a 2nd prize. There was a 1st prize for Jess Clark in the Ridden Pony class, and
Millie Allen was thrilled to win a 1st with her illustrated poem about farming. There were many other prizes in the Handicrafts and Produce tent, too numerous to mention, but amongst them two 1st prizes to Thirza Eades for her jam and chutney and a 2nd prize to Carrie Ross for her fantastic cake to celebrate British farming. Additionally, we understand that Hannah Wood was awarded the 'Championship' with her horse, Thomas – a real achievement!  Well done to everyone…………..
Alstonefield was also well represented by our business community – Michael Griffin,  AMG Engineering and Katie Lane with 'Hugget', all had stands. More photographs of the day can be seen in the Gallery.  If you have any you would like to see included, please send them to Brian Ross.
Review of 2012 Show

The sunshine drew record numbers of visitors to this lovely, ever popular annual country show. The now famous slow tractor race drew crowds around the main arena, where we also enjoyed displays of carriage driving, shire horses, show jumping, hounds & beagles, ducks & sheep dog, and terrier racing.  Alstonefield produced many winners in the Handicrafts & Produce categories  including Jean Allen for her bakewell tart and Notty Hornblower in Floral Art.  Joanna Griffin took 1st prizes for her knitted toy and jubilee cushion and Carol Eades won with her embroidery. Brian Ross won both photography categories and Cathy Reavy took 2nd & 3rd prizes. Jo Wood won a 3rd prize for her painting. Brian Ross & Rupert Hignett took 1st and 2nd in the men's coronation chicken.  For the children, Edie Hambleton took great delight in accepting the trophy for her picture of the Queen, while Erin Eades & Imogen Pot excelled with 1st and 2nd prizes for their red, white & blue cupcakes. In the Poultry tent, Thomas & Peter Linley won 1st and 3rd prizes for their Light Sussex and Mille Fleur. To see the gallery of photos of the day click HERE
——————————————————————————————-