Review of the Exhibition by Alstonefield Arts & Craft Group
"This is amazing!  You have really exceeded expectations this time"
"Just lovely – so much work, but so worthwhile!  Inspirational!"
"my first visit to this beautiful church and to see this fantastic display was the icing"
"a lovely exhibition and how wonderfully everybody has worked together"
"Superb sense of community shown in this display"
"A very moving experience. Lots of creativity and hard work."
and from Abigail, aged 7 and a half:-
"Very good. I like all the angel pictures and I like the ones I can read"
A Festival of Angels ran from 1st to 4th December 2011 at St. Peter's Church and has been our fourth major Exhibition, following Christmas Tree Festivals in 2001 & 2003, and Images of Spring in 2007.  The culmination of some two years work, this latest exhibition has focused on Angels and included a wide variety of crafts –  stumpwork, crewelwork, transfer dye printing & calligraphy. Read the programme by clicking  Festival of Angels programme.  Many hundreds of visitors passed through the doors of St. Peter's over the 4 days of the Festival, with large numbers returning for a second or even a third visit, bringing new sets of friends with them each time. The almost life-size white angels by the font were particularly admired, as were the 4 large satin angel banners and photographers loved the feather 'hosts' of angels that glistened in the morning sun.
Children's Art Display
We had asked local children and those connected with our group, to draw or paint their idea of an Angel and perhaps a write a small poem. The results were displayed in Church, together with comments from the judges, local artists Margaret Sharples & Jean Goodwin. Some children returned several times to admire their artwork!
Festival Cafe in the Village Hall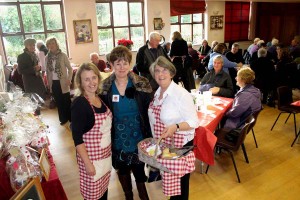 Open throughout the four days of the Festival  in the Village Hall, the Angel Cafe kept visitors refreshed until late in the afternoon with a delicious variety of sandwiches, home-made soup, cakes & mince pies. There was such a polished service that some visitors asked if we did this every week! Christmas hampers and produce was also for sale, each item decorated with an angel charm 'made for an angel', making them ideal gifts.
Angel Designs
If you have bought designs & making instructions for any of the pieces on display, please click here to view photographs
Profits
Our gross profits from the Exhibition, Refreshments and sales of crafts & produce amounted to almost £5500, leaving a net profit of £4500 after food shopping and craft material expenses. £1500 has been donated to each of our chosen 3 good causes:
St. Peter's Church Water Appeal, the Village Hall Extension Fund and Katharine House Hospice in Stafford.
The £1500 donation to the Hospice has been used to provide 4 in-patients with care on Christmas Day (£900), and to sponsor day care on the 28th May 2012 (£600).  A notice was displayed that the care on those days was being sponsored by Alstonefield Arts & Craft Group, in memory of Belinda White, Cathy's sister.


Concert for Voice & Harp – Sunday 4th December
As part of the St. Peter's Concert programme, the magical sounds of soprano and harp brought the Festival to a fitting conclusion on the evening of Sunday 4th December. Our Vicar, Anne Ballard, and harpist Eleanor Hudson, treated us to a wonderful selection of music and readings by members of Eleanor's family.