We welcome all visitors to our events:
– at the Village Hall (Memorial Hall) – DE6 2FR
– at St Peter's church – DE6 2FX
Click here for car parking  information and here for maps and directions.
AVH Concerts
Regular high quality concerts take place in the hall, usually on Saturday evenings. We like to feature a range of musical styles, such as folk, blues, singer-songwriters, jazz, Americana/ alt.country, etc. There is a licensed bar and all concerts start at 8pm unless stated (doors 7.30).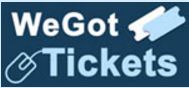 Tickets are best (and cheapest) if bought online at wegottickets.com. Click the logo to the left to see a full list of concerts currently available to book, and buy now! 
OR pay in advance by cheque/cash – call 01335 310322 or email avh.concerts@gmail.com
A listing of confirmed concerts in the hall for 2019 can be found as a PDF file here. To avoid disappointment, please book early for any concert as the venue capacity is only 100, so we often sell out.
Video clips and reviews of selected previous concerts can be found here.
NEXT CONCERT:
Saturday 2 March
Kevin Dempsey & Joe Broughton
Since forming in 1999 this incredible duo have recorded four albums and toured extensively in over 20 countries round the world. Combining emotive songs, unrivalled instrumental capability and a spectacular high energy show, they never fail to create a spellbinding atmosphere. The list of musicians they have played with is impressive… Mary Black, Joss Stone, Dando Shaft, The Urban Folk Quartet, Fairport Convention, The Albion Band, Dave Swarbrick, Whippersnapper, Percy Sledge, Bellowhead….
But it can't prepare you for this unique partnership. To pigeon hole their style of music would be to do them a disservice. They draw on music from all corners of the world but their experience in jazz, soul, folk, classical, pop and rock music takes the result into original and uncharted territory.
What you'll notice at their concerts is not only the originality of what they play, but also the simple fact that they do it so well. Kevin has a fantastic voice and is widely regarded as one of Europe's greatest acoustic guitar players, whilst Joe is simply unmatched in the world of violin pyrotechnics.
To top it all, the Dempsey/Broughton show is playful and entertaining; you almost have to pinch yourself and remember to take it all in as they swoop from beautiful song to mind blowing tune via a stream of hilarious banter. Two hours with this duo can seem like 10 minutes.
"Superb musicianship, brilliant conception and execution…all you people who think you can jazz-up folk music – hear this and weep!" – Flos Headford
Licensed bar.
Tickets £12 (plus booking fee) via WeGotTickets or £13.50 direct – call 01335 310322.
Saturday 23 March – Pete Atkin
This concert offers 'something completely different' with a show featuring Pete Atkin, for a unique evening of what has become a defining example of 'English Chanson'.
Atkin is best known for his collaborations with Australian author, critic and TV personality,
Clive James.
The pair first met in 1966 as members of the Cambridge Footlights Revue that spawned so much British comedy talent, from the satire of Beyond the Fringe to the surrealism of Monty Python. It was this connection that would later result in Atkin and James being invited in 1977 to perform alongside the likes of John Cleese and Peter Cook at various Amnesty International benefits, subsequently released on DVD under The Secret Policeman's Ball titles.
What is less well known is that in the early 1970s, the pair made eight highly collectable albums of quirky, original, and entertaining songs, told with ironic humour and acute observation. Atkin wrote the music, and Clive James wrote the words.
Thanks to the internet, after a gap of more than 20 years, it became clear that Atkin and James' early songs were far from forgotten. As a result, the old albums were reissued on CD, and the pair revived their partnership with live performances including the Edinburgh Fringe and a tour of Australia. Getting back on the road led to new material being written, producing new albums every bit as good as those from the early days.
For a 'day-job', Atkin is a writer and freelance radio producer, having worked mostly for the BBC, on programmes such as Just a Minute, Week Ending and the epic series, This Sceptred Isle.
This is an rare opportunity to catch Pete Atkin solo, with just guitar and piano.
Read the full story including the fascinating association with the Peak District here (PDF file).
SOLD OUT – Cancellations only (01335 310121)
---
 LISTINGS
---
 Alstonefield Village Hall sound is produced by Mixonthehill Studio
A specification of the equipment used for hall concerts can be found on this  link (this may be subject to change, so please check if needed). We also have available a full-size digital Yamaha Clavino piano keyboard (model CLP-411 – see technical specification here).
"I created my dream, a small studio to record what's in my head. A work in slow progress! Add my masochistic pleasure in P.A. work and desire to produce pure sound and you have Mixonthehill."
Contact Alan if you have something you want to record (or need PA!) at very reasonable rates.
 This page maintained by Dave Littlehales and Martin Snodin