We welcome all visitors to our events that take place at the Village Hall (Memorial Hall), Alstonefield, Nr. Ashbourne, DE6 2FR, or at St. Peter's Church, Alstonefield, Nr. Ashbourne, DE6 2FX. Click here for car parking information and here for maps and directions
 Information & full contact details appear at the bottom of this page.
September 30th 2016 — Village Hall
 October 15th 2016 –-  Village Hall (Doors 7 for 7.30)
Philip Henry and Hannah Martin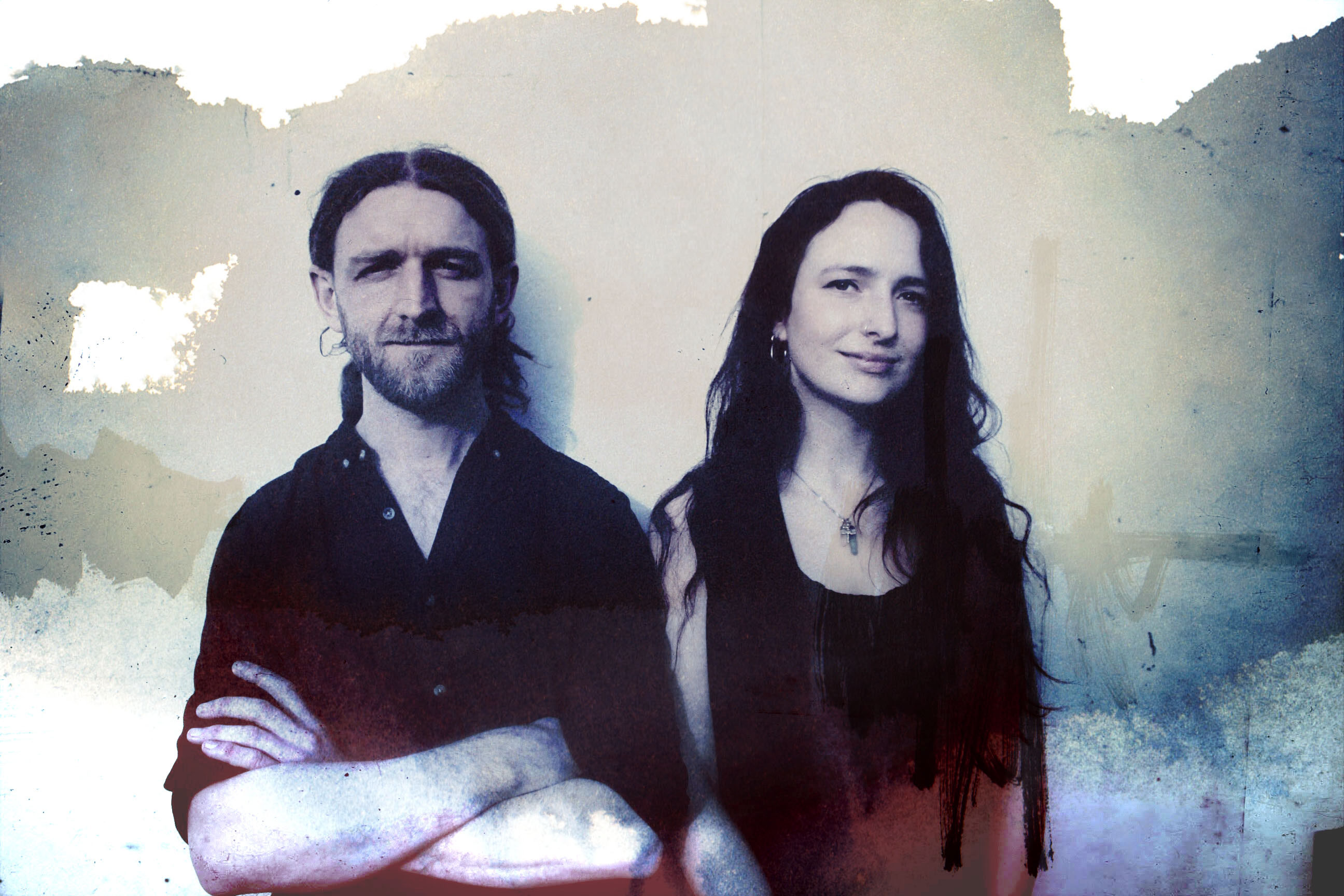 Winners of 2014's BBC Radio Two Folk Award for Best Duo, Phillip Henry and Hannah Martin, have come a long way on their journey.
In 2009, Phillip, one of the UK's finest slide guitarists and harmonica players, moved into a tent in south Devon. He had just returned from studying Indian classical guitar in Calcutta with world expert Pandit Debashish Bhattacharya. He had his tent, his car, and a five year plan to earn a living through his music. Playing in alt-folk outfit The Roots Union, he met Devonian fiddle-singer Hannah Martin, and the pair instantly recognized a very powerful musical connection. When the band ended, they continued as a duo, playing all over the country, from Glastonbury festival to busking sessions on the seafront at Sidmouth Folk Week.
It was during one of these busking stints that they were spotted in an encounter with Steve Knightley (Show Of Hands) that now goes down in folk legend. Recognizing the potential of Henry and Martin's partnership, Knightley invited them to accompany Show Of Hands on a nationwide tour, culminating with a show at the Royal Albert Hall at Easter 2012.
Best Duo – 2014 BBC Folk Awards
"This duo has a combination of virtuosity, intensity and charisma that merits a slot on much bigger stages"   - John L. Walters, The Guardian
"Eloquent performers – a musical success story"   - Fiona Talkington, BBC Radio 3
"Songs that linger in the memory held together by the fine musicianship of Henry and Martin. Strong and original – an unusual treat"
Martin Chilton, Daily Telegraph

Tickets £12 (plus booking fee if bought online)
November 19th 2016 –-  Village Hall (Doors 7 for 7.30)
John Tams and Barry Coope

SOLD OUT
John Tams described by Mojo as "one of the ultimate British songwriters" has had a career spanning four decades in every medium. A member of the Albion Band and Home Service he is perhaps best known for his work at the National Theatre and as Rifleman Daniel Hagman in the Sharpe television series.
He is a five times winner of the BBC Radio 2 Folk Awards.
Barry Coope is a member of  vocal group Coope Boyes and Simpson
John wrote the music to the original theatre production of WARHORSE and  worked on the film alongside composer John Williams. Read more here.
'John Tams has a voice that can heal. His work is older than Stonehenge but fresher than a morning daisy.' Bob Hoskins
'John Tams and Barry Coope confound expectations: rich, diverse, contemporary and utterly compelling. It simply does not get any better than this.' – Colin Hall, What's On in London
'Go and see them. John Tams is a national Treasure. They are brilliant.' - BBC Radio 2
WEDNESDAY November 23rd 2016
Village Hall (Doors 7 for 7.30)
GUY DAVIS & BROOKS WILLIAMS IN CONCERT
STOP PRESS : Alstonefield goes mid-week crazy! Two of the world's most acclaimed guitarists New York blues legend Guy Davis and Americana / Blues singer-songwriter Brooks Williams come together for an evening of blues electric, acoustic, slide guitar and singing.
This was just too good to miss! Guy & Brooks will be with us on WEDNESDAY November 23rd. Details and tickets coming very shortly!
Reviews of previous concerts are here.

CONTACTS FOR EVENTS:

(Or telephone: 01335 310322)
Tickets for Village Hall events may be reserved using the above contacts (cheque or cash required) or by using the WeGotTickets links above.
St Peters – 01335 310253
Leaden Boot – 01335 310000
Alstonefield Village Hall Sound is produced by Mixonthehill Studio
"I created my dream, a small studio to record what's in my head. A work in slow progress! Add my masochistic pleasure in P.A. work and desire to produce pure sound and you have Mixonthehill."
Contact Alan if you have something you want to record (or need PA!) at very reasonable rates.
This page maintained by Dave Littlehales