Kathryn Roberts & Sean Lakeman (20 January 2018)
I'm not going to pretend that Alstonefield is easy to find, and I'm neither going to pretend that it is a 10 minute drive from Stafford, but I will say that Alstonefield is a magical place set in the heart of the Staffordshire moorlands and is a favourite place for walkers and those of who enjoy a day out in one of England's finest rural idylls.
However, we went on a cold and wintry January night so we didn't see a great deal of the scenery but that was not the reason for our visit. We went because this tiny hamlet, this little tucked out of the way hidden village was hosting a concert featuring Kathryn Roberts and Sean Lakeman.
I have seen them a few times before but always in a Festival setting with hundreds, and, one occasion, thousands of people in the audience. This was a village hall.
As village halls go, this one was a cracker, seated about 100 or so people and was very comfortable and nicely warm.
I intended this to be a review of the performance, but, if I'm honest, I really don't have the words to describe just how good it was. The difference between a festival performance and a 'club' performance is the intimacy. The festival, though a great showcase for the talent of really good artists lacks the warmth and spontaneity of a small venue and great as these performers are, you really don't feel you get to know them as you do in a club setting.
The songs and the performance was, as you would expect, utterly brilliant. Kathryn has a voice that is incredibly pure yet sings with passion and expression and her understated touch on the piano and flute is exactly right – could not be better. Sean – well, as a bumbling guitar player myself, I don't know just how he does it. I was watching him very carefully for most of the night and am still no wiser, and when you put the two of them together the magic really happens right before your eyes.
An utterly brilliant night, well worth the trip out there from Stafford.
The good news is that the team has a complete monthly programme of events running throughout 2018 and include some more real big hitters such as Phil Beer, The Dan Walsh Trio and John Tams and Barry Coope as well as other brilliant performers (Dave Pegg, Gordon Giltrap, Natalie Duncan and many more).
I highly recommend that you check out their website, put some dates in your diary and buy a few tickets, you won't regret it.
Big thanks again to Dave and his team – keep up the good work.
You can get tickets here https://www.ents24.com/alstonefie…/alstonefield-village-hall
And their Facebook page is here https://www.facebook.com/Alstonefield-Village-Hall-2539863…/
Upcoming events, tickets, information, and maps for Alstonefield Village Hall in Alstonefield from 
Ents24.com
, the UK's biggest entertainment website.
Steve Gullick (Stafford Folk Club)
Best of 2017
2017 was a great year for music in the village hall. Our Facebook watchers may have already seen our 'best of the year' video clips, but here's a sample of some of the year's best performances in one place, for your enjoyment. With thanks to David Barrs and Martin Snodin for the recordings (and, of course, to those musicians who gave their permission to share).
January 2017 – Iain Morrison & Michael Chorney:
February 2017 – Stephen Fearing:
March – Holy Moly & The Crackers:
April – Urban Folk Quartet:
June – Charlie Dore:
July – Jon Allen:
August – The Haley Sisters:
September – Selina Walker (at a special charity concert):
October – Gilmore & Roberts:
December – Sally Barker (with Dan Britton & Chris Conway):
Stephen Fearing – Village Hall 11 February 2017
Independent review in online music magazine, Maximum Volume here.
A SELECTION OF OLDER REVIEWS AND VIDEOS:
John Tams & Barry Coope – Village Hall 19 November 2016
All we needed was a big roaring log fire! We had the dog; a lovely labrador called Ushi who at one point while asleep moved his legs in time to the music – and we had the wonderfully cosy fireside atmosphere that John Tams and Barry Coope brought with them to a sold-out evening at Alstonefield  Village Hall.
Looking like a cross between the Flemish painter Anthony Van Dyck and a Victorian poacher, John's quiet charisma and beguilingly seductive songs conjured up the feeling of an evening with a few friends just chatting together and playing some music. 'Look after one another,' is John's mantra… destined he said to be the creed of a new political party until he realised that, really, there is no more to say than that, and that feeling of warmth between audience and performers was present throughout the evening.
John's long backstory wove a thread through the evening as he told his audience about blagging his way into the National Theatre where he met Laurie Lee, filming in Prague with Bob Hoskyns for George Harrison's Handmade Films – and meeting George; to his time with War Horse. Singing either unaccompanied or else supported by his  deceptively simple guitar and harmonica and Barry Coope's wonderfully luxuriant keyboards and sublime vocals he started the evening with two songs from War Horse – 'Only Remembered', with the Alstonefield audience joining in on the chorus enthusiastically, and really very wonderfully, followed by the poignant  'Year Turns Round Again'.
He followed this with 'The Squire of Tamworth' – the first of two songs with a Music Hall feel that he picked up from a singer named George Fradley who he met in Sudbury near Derby. Later we were treated to Fradley's delightful 'Mrs Mary's Ball'. 'Nottingham Town' was dedicated John's friend, the broadcaster and musician Roy Harris and he followed this with a song he wrote for Laurie Lee based on Lee's seminal novel 'Cider with Rosie' – a song that perfectly captured the feel of the book and its bucolic depiction of country life in pre-first World War England. You could almost smell the hay and hear the larks; and feel sickness at the knowledge of the horror that was to come. A really beautiful song…
John and Barry finished off the first half of the evening with three lullabies – songs that John may well find himself singing to his soon-to-be-born granddaughter… and how delighted he was to be telling us how much he was looking forward to it.
The second half began with two songs from a new Radio Ballads programme – Songs of Steel – 'Vulcan and Lucifer' and 'Steelos', which conjured up the drama and danger of the steel mills. Then the great Ian Tyson song 'Four Strong Winds', Ian being someone else who John knows. Then in a change of atmosphere and mood, 'Sam's Christmas Pudding'… a Stanley Holloway type monologue which managed the almost impossible task of being a song set during the Ist. World War and being very funny!
Also set during the Ist. War but in a completely different mood 'Stand To' was incredibly moving. Throughout the evening John's experience as an actor had imbued his performance of the songs with the ability to really draw the listener in to the story and it was especially apparent with Stand To, which conjured up the horror of the trenches with a terrible and sobering reality. John and Barry followed this with 'Will I See Thee More' and then, for a finale 'Over the Hills', the hauntingly  beautiful song that John made famous in the television series Sharpe.  And the Alstonefield audience joined in the chorus to bring this magical night to a close.
Once again the sound was in the supremely capable hands of Alan Hassall who did a superb job of capturing the distinctive warmth of John's voice as well as his guitar and harmonica; and Barry's keyboard and marvellous voice, which added so much to the evening and were so wonderfully complementary to John's.
Rick Ford
www.rickfordsongwriter.com
Philip Henry and Hanna Martin with John Mead
Saturday 15th October 2016 – Village Hall
OK no slow build up here, wow what a good night we had.
John opened with a lovely set starting with, "Don't Blame it on Belper" and straight away we're into his lovely easy charm and before you know it you're either smiling or laughing out loud. He has such a knack of writing songs that lift your mood. Somehow they don't sound like songs constructed to make you laugh they're much more natural than that as with his second song called, 'Strange Thing Called Love' or the third one about his mother who he described as 'part cow' following her heart operation. 'Not perhaps the song she would have wanted me to write about her.' Remember Me was followed by Lafayette and Ashes to Rust and he finished with 'his hit' about his time in Leeds called The Last Bus To Leeds and we were all singing along knowingly. Delightful John, Thank you.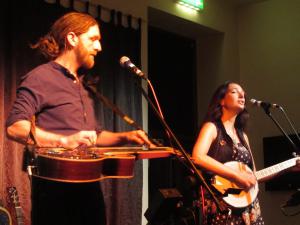 Philip and Hannah started their first set with a gentle and enticing version of Silbury Hill.
Hannah sang and played Banjo, Phil played Dobro and foot tapping and at once it was enchanting and Hannah's voice draws you in promising an evening of lyrical loveliness with such a mixture of power and grace. Then we had an instrument change to Hannah playing wonderful fiddle and her foot operated drone box the name if which I forget but I do know it's kind of Indian but made in Wales and Phil on, I think he called it 'folktriphop' harmonica played beat box style and more pronounced footwork on his large plywood stompbox. Gosh they're good together and live they're truly great. I love the fact that it's impossible to simply categorise them, they are Hannah and Phil doing their thing and it's a wonderful thing.
I could list all that they did but that's not appropriate here, I do however feel disloyal to some of the
songs and tunes by not mentioning them. I thought that Hannah's fiddle playing on Phil's song about his granddad called Yarrow Mill was very voice like and lyrical, it grabbed me. Phil doing a train song on harmonica could have sounded derivative but was not at all. Hannah was watching from the side, not Phil but the dog on the front row who was apparently fascinated by the black box from where the sound was coming! The first half ended with Phil playing his Chateranghi, I think I've spelled it correctly. He apparently studied in India under the chap who invented this 22 stringed wonder with its slide, drone and sympathetic strings, Hannah played her tenor guitar. This was a song about Marie Coldfield who was killed while reporting from Syria, this time Hannah was doing most of the footwork. Your reviewer is lost for words, wow.
The second half started with Watershed title track of the latest album with Phil playing his handmade harmonica, he apparently made it by joining two Harmonicas and was for me a more powerful version, just when you thought it couldn't be bettered, then the terrific album version.
The vibe got stronger and by the end it was highly charged indeed, a partial standing ovation bought them back to leave us with James Taylor's You Can Close Your Eyes.
We have had some very special concerts in the hall and this was certainly one of them. I hope we can get them back again at some point.
(Alan Hassall)
Pete Morton (Support Alan Hassall) – Village Hall 30th April
As I drove to Alstonefield through the April snow, I was looking forward to a night of music from the legendary troubadour Pete Morton that would dispel the gloom of this chill spring of 2016. He did not disappoint…
Before Pete's set however, Alstonefield's very own resident soundman Alan Hassall came on stage to deliver a sparkling collection of songs delivered in an easy relaxed style with gentle confidence and authority and wonderful guitar playing. Songs ranged from Michael Chapman, Donovan and the magisterial A.J Roach to Alan's own songs – and the flow was seamless. A special favourite of mine is Alan's 'On My Way', played with a rhythmic guitar accompaniment that perfectly suits the song, but really all of Alan's songs deserve repeated hearings and were received with great enthusiasm by the wonderfully receptive audience. But after his set there was no chance for a rest for the hardworking Mister Hassall as he then went to the back of the Hall to take up his soundman duties for Pete – and a brilliant job he made of achieving the gold standard for acoustic guitar soundmen by allowing the audience to forget that the artist is amplified.
And then it was time for Pete and he immediately took command of the stage, his charisma, energy and conviction in his songs leaving no room for doubt that here is one of the very best singer/songwriter/performers around today in what is very loosely termed the 'folk scene'. Throughout the night, Pete's delivery was masterful – aided by his own very special pick-and-finger guitar style that perfectly illuminates the songs without once getting in their way; sometimes soft and delicate, leaving space for the words to breathe, and at others driving and percussive.
Nothing traditionally 'folky' here though; the themes he writes about are universal… love – from Pete's parents love for each other in the heart-tugging ballad 'The Luckiest Man' to his love for his own son in the very beautiful 'Land of Time.' He sings too of the search for truth and justice and fairness in a world in which these self evident truths seem to be fading in a welter of corruption and greed.
But it's not all this serious! Sprinkled in amongst these evangelical songs are some of Pete's trademark 'fraps' – literally a mix of folk music and rap in which a traditional folk chorus such as All For Me Grog is interspersed with rapid fire wordplay that leaves the listener breathless with exhaustion as the words tumble out in a helter-skelter of disparate images that all, somehow, manage to make sense. One of my favourite fraps tackles nothing less than the entire history of England, wrapped within the framework of 'To be a Farmer's Boy.' And then there is the 'The Battle of Trafalgar', named after a pub Pete happened to go into early one evening for just one lager and ended up staying in for much longer than he'd planned as he immersed himself in the wonderfully idiosyncratic characters he saw there and ended up writing a song about them on the spot – on a beer mat! Characters so diverse and unique that they are impossible to clone – part of the old England whose gradual erosion Pete so obviously mourns in a world where 'real' old pubs like the Battle of Trafalgar are subjected to grotesque makeovers on the altar of corporate greed.
Then there are songs of universality – the marvellous 'Another Train' and Pete's last song of the night, 'When we sing Together' – an anthem to hope and the strength and power of love. And the Alstonefield audience sang along with joy and unbridled enthusiasm and were still singing the song to themselves as they left the hall and wandered out into the cold frosty air after a truly great night. Thanks Pete.
(Rick Ford)
Urban Folk Quartet in concert – Village Hall Nov 28th 2015
Hear them live here.        Read the Ashbourne Telegraph article here
We had a full house, they came and rocked us from the start. There was dancing in the aisles, great to see Dave and Val on their feet, standing ovations and they blew us all away. Great!
OK so you want to know more, well if you weren't there you missed what was another great night at the village hall. They came straight in with a high octane version of 'Boat up the River' featuring Dan the new banjo player and singer. And that's when some of the dancing started at the back, it was hard to stay still. We were then treated to some virtuoso fiddle playing from Jo before Paloma took the lead fiddle role in 'the Stone Step set' and then a number apparently, as Tom explained in 11/8 time which you can count by saying '16 pints of lager' I think you had to hear the way Tom said it. it started with Jo on Guitar and Dan on Banjo with flying fingers, beautifully and mysteriously Eastern sounding it was superb Banjo playing. Then we were treated, as we were last time UFQ entertained us, by drum solo from Tom who has a weird drum set up, he is a fabulous Cahon Player. To say drum solo sells it totally short, it is a percussion extravaganza with the whole band banging or shaking things and Dan bought a shaker in to the audience to get some audience participation and well done to the lady half way bak at the left of the stage. It included Tom's trademark triangle solo. Following this was the beautiful slow, wistful and airy tune called The Language Barrier. We then had a version of 500 Miles From Home and the first half ended with two of Paloma's tunes called Upward Spiral and Brink. We then indulged in the results of the wonderful catering teams efforts with the Tissington banger Hot Dogs, one hardly seemed enough, and they're great sausages. The raffle and the second half.
I could list the second half but it started with a joke from Dave followed by a memory of Jo's when he told us that he once had a girlfriend who worked at the zoo who his mother said was a real keeper. for me the two highlights, unfair really to signal two out, of the second half were a  version of "The Snows They Melt the Soonest" which started with two pizzicato fiddles and banjo and what was referred to as their Eastern Dub Step number featuring Dan on Guitar and another shorter percussion moment from Tom.
As I said above, we had a full house, they came and rocked us from the start. There was dancing in the aisles standing ovations and they blew us all away. Great!
Alan Hassall.
JON ALLEN in concert (support:Karima Francis)  – Village Hall Oct 17th 2015
On a cold October night Alstonefield Village Hall generated a special kind of heat as a sold-out audience (standing room only) welcomed two very special and distinctive singer/songwriters. First on stage was Karima Francis – a humble, self-effacing elfin like figure who clothed her deep dark voice with shimmering filigree waves of sound from her guitar and sang her songs of love and heartbreak with huge passion and conviction. Her music was spare, stark and stripped back leaving plenty of space for her voice to weave its magic.
Jon Allen has received a host of excellent reviews from various music magazines (Uncut called his music 'exemplary') as well as Jools Holland, on whose show he has played. Among his claims to 'fame' is the fact that he wrote the song that supported the T.V. advert for Land Rover – a song he sang first and which sent a strange chord of recognition into this reviewer's memory and I guess that of many in the audience. He is also responsible for the beautiful Joanna which I heard on Channel 4's highly acclaimed series Homeland (one of my favourite programmes).
The weight of expectation was palpable as he strolled on stage and he did not disappoint, proceeding to engage everyone in the Hall with a varied selection of music from delicate finger-picking to infectiously rhythmic up-tempo numbers such as Lucky I Guess, which reminded me of the Dylan of Highway 61 and had the audience clapping with gusto. The ghost of Dylan was also present in New Year's Eve, sung to the tune of North Country Girl and featuring a harp break that sent many in the audience back to those faraway days in the 60s when they (we!!) were young and that sound was the soundtrack to our lives. He also included a number of mid-tempo songs such as Down by the River and Keep Moving On – and so managed to vary his set enough to maintain the enthusiasm of his audience. His final song, the last of his compulsory encore, was to me the highlight of the set; Last Orders… written for his friend's wedding in Slovakia. A true classic.
It is perhaps his voice that is the most striking feature of Jon Allen – a wondrously flexible instrument with overtones of Rod Stewart and Van Morrison but which is uniquely his own. Combined with his comfortable stage presence and his songs, he had the Alstonefield audience crying out for more at the end of another great evening.
In charge of the sound was a regular to Alstonefield – Alan Hassall; whose skills once again produced a sound that was invisibly unobtrusive… always the greatest aim of a sound engineer and the highest compliment that can be paid.
(Rick Ford)
Fordante – From Strauss to the Movies & More 1st May 2015
Alstonefield village hall was transformed on Friday evening into a magical journey for the imagination. We were entertained by Fordante, a five piece ensemble comprising keyboard, cello, oboe, violin and viola. Actually, that's not true. We weren't just entertained we were spellbound – now there's a future opportunity for Fordante, the theme from Hitchcock's film of the same name!
Although there were only five musicians the sound produced between them seemed to belong to a much larger ensemble, resonating around the hall beautifully. Augmented by visual images and different hues of colour projected onto the back wall, we were treated to a variety of arrangements and also original pieces composed by Phil Mountford.
The scene was set with 'Tara's theme' from the film Gone with the Wind, and frankly, my dear, we did give a damn because it was wonderful. From that point on, the programme roused, lulled and touched the audience in turn, as these gifted musicians showed us the depth and breadth of what their instruments could do in playing with our emotions.
From the hauntingly beautiful 'Gabriel's oboe' (The Mission), to the rousing Radetzky's March (complete with enthusiastic audience participation!) and Celtic pieces conjuring up breathtaking mountains, lochs and countryside, and then The Blue Danube Waltz transporting us to a Viennese ballroom,  through to the very poignant theme from 'Schindler's list' composed by John Williams, the audience were simply…spellbound.
The encore was the lilting theme from 'Ladies in Lavender' and was a wonderful end to a memorable evening, echoing the words projected onto the wall during The Merry Widow – 'Let joy be uncontained'. It certainly was on Friday – thank you Fordante.
(Marion Beloe)
 Alstonefield Italiano – "Spaghetti Swing" Jan 24 2015
The stage was set: a projector screen, a drum kit, a keyboard and, up front, a table with a large pasta pan, a steaming saucepan and a collection of bottles.
Two guys lurked ominously; Mediterranean tan, black hats and suits, red ties and white shirts.
Dave, even loud for Dave, sported a red hat and white trousers and the whole village hall team was themed in red and white.
The projector screen lights up and a video clip tells us that pasta was introduced into Italy from China by Marco Polo and that we were to experience the only music show in the world with pasta cooked on stage.
Our compère was the keyboard player – I didn't catch his name, we'll call him Don Juan, and he told us two days ago they were in Venice, they come to real England, you are second place we visit we return to Venice on two of February. He introduced Ricardo on drums and Maritso the chef.
We listened to all of this on the new comfy village hall chairs. Great choice village hall; thank you Leaden Boot for the funding.
Don Juan promised us an evening of music, amore and macaroni but Maritso was intent on cooking only spaghetti. A video clip explained that there are a surprisingly large number of different forms of long strand pasta.
Maritso (and Don Juan with the English translation) explained the ingredients of the spaghetti dish. He told us the secret ingredient was 'amore'. It looked more like London dry gin but hey, you can't always believe what it says on the label.
Maritso needed Maria to help him do the cooking. Cynthia was dragged from the audience and rechristened Maria. In the background, Ricardo played the drums with spaghetti. The only music show in the world where the drummer plays with spaghetti.
To emphasise the importance of amore, we had a song about love and a video clip of kisses from a selection of black and white films. Up front, Maritso juggled with the bottle of gin, sorry the amore, before liberally adding some of the content to the pan and flambéing.
Maritso, watched by Maria, added ingredients and somewhere in the background Don Juan and Ricardo sang an Italian song about the moon, and Gordon Ramsay appeared on screen to explain how to cook spaghetti. Ricardo, the main singer, did his various impersonations of singing as a trumpet, a smoker's cough and Pavarotti.
The jazz number "25, 26, 10" was the cue for Maria to hand out numbered cards to the audience and those lucky enough to get 25, 26 and 10 were invited to the front table to sample the spaghetti dish, now completely prepared by Maritso.
There was more than enough spaghetti for three. "Dohn worry we feed everyone" said Don Juan.
With food on our minds, we reached the interval and delighted in Tissington spicey sausages – the best sausage ina bun IN THE WORLD.
Time then for some thank yous. To Live and Local for enabling the visit by Spaghetti Swing and to the village hall team for making the evening possible
Don Juan had promised that Cynthia would be Maria for ever but this was not to be. She was re-rechristened as Chinsee-ah as she was given a packet of penne, which like all the other ingredients were available from Mr Organics, full details on the leaflets on your tables.
The is only music show in the world where spaghetti is cooked on stage, where the chef sings and where the drummer not only plays with spaghetti but also drums on a pasta pan and gin bottle.
We had more swing jazz and Kevin was singled out from the audience and invited to the front. Yes, this is the only music show in the world where, to the accompaniment of swing jazz and a video clip of Italian holiday destinations, a chef leaves a steaming pan of spaghetti in order to shave the bald head of a member of the audience.
For being a good sport, Kevin was given a cd. This has to be the best introduction to a merchandising promotion I have ever seen.
We were getting near the end. Don Juan thought it was time for Volare and Maritso thought it time to show us how to dance. Yes, this is the only music show in the world where…..and the chef teaches the audience how to dance.
We clapped hard for an encore and Maritso agreed to repeat Volare, but only if all the audience got to its feet to dance. Of course we did.
It was a splash of warm Italian sunshine on a snowy, dark winter evening. Thank you Spaghetti Swing. Thank you Village Hall team.
(Rob Handscombe)
 Fishpond Delights by Candlelight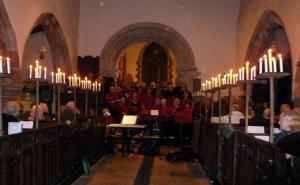 On Saturday 29th November, St. Peter's delighted in the return of the wonderful Fishpond Choir from Matlock, led by Director, Dana de Waal and accompanied by his wife, Anne.  Bathed in candlelight, with the large angel banners on display, the Church felt warm and welcoming, and the over 100-strong audience were treated to a repertoire of Christmas songs from around the world, including the Caribbean. The solo performances were spectacular, with a duet from Dana de Waal & Jo Brown in 'Angiol di Pace'  and featured our own Alan Barnard in 'A Winter Wonderland'.  
Anne de Waal and Jo Brown so stunned the audience with 'Silent Night', that an encore was demanded from the audience, as was one of 'God So Loved the World' composed by Anne and beautifully sung by Dana.  Thank you to the Choir and to everyone who organised the evening, that has prepared us so well for Christmas. A fantastic £840 was raised for St. Peter's Church.
Manifold Folk Gathering – Full Report on The Leek Post & Times site.
The Birdscarers (Appearing in Alstonefield next month!)
12th April 2014 – Baltic Crossing in concert (Village Hall)
Alstonefield village hall was packed on Saturday night for the final 'Live & Local' event of the season. The musical offering came from Baltic Crossing, a folk group consisting of two Northumbrian men, two Finnish men and a Dane – plus two fiddles, a guitar, a double bass, a set of Northumbrian pipes, a mandolin, a melodeon and a keyboard!
There was humour, history and breathtaking musical talent showcased throughout the evening as the band played a variety of traditional folk music alongside their own compositions, which included a piece that blended classical and folk music together. Members of the band had their own 'spot' during the evening when the audience was treated to Tales, not from the Vienna Woods, but from Denmark, Finland and Northumbria where we were transported to times past when people played music and danced in woodland settings. Adding to the atmosphere was a certain Mr and Mrs Littlehales who got up and demonstrated what a waltz in the woods might have looked like!
Shining throughout Baltic Crossing's versatile performance was their energy and sheer joy at making music, which left the audience wanting more. It was an uplifting evening and Baltic Crossing is a truly unique group of musicians – let's hope they return in the not too distant future. (Marion Beloe)
(The waltz really was spectacular… such a shame it wasn't captured on camera 😉  DL)
22nd March 2014 – Beatus at St. Peters
Led by  Musical Director, Christopher Dell, this chamber choir from Yoxall performed a lovely selection of music at St. Peter's Church. Opening with 16th century songs by Thomas Tallis and William Mundy, the choir took us through the centuries to reach the interval with 'And So It Goes' by Billy Joel.  Particularly atmospheric was a lullaby sung in Polish and in the second half, we were treated to some folk music by Claudy Banks. The canapes served by the choir were enjoyed by the small but appreciative audience.
15th March 2014 – "The Homing Stone" – Hugh Lupton (Village Hall)
With the wind howling round the village, a group circled the great storyteller, on his exotic mat, to spend the evening entranced by tales of far off places. It was a perfect night to turn up to Hugh Lupton's "The Homing Stone", the penultimate Live and Local event at the Memorial Hall.
With perhaps a smaller audience than this leading light in the storytelling world deserved, this was another great Alstonefield evening. Somehow storytelling does not get the wider support that it deserves, perhaps "traditional" entertainment is overlooked by those in the thrall of their Apple devices! Hugh Lupton founded the Company of Storytellers in 1985 and the revival and renewal of this art form has progressed steadily since.
It was easy to see why Hugh Lupton is so highly regarded, as he held us in thrall with his spellbinding tales. With perfect timing, the gestures of his hands and the atmosphere created by the horn, mbira, drums and recorder, he told tales within tales.
"The Homing Stone" is ostensibly about his great uncle, Arthur Ransome's escape across Russia with his wife Evgenia in 1919. Hugh's own recollections of the family gave an added poignancy to the story. Where most of us know of Ransome for his wonderful children's stories and later the writing on his passion for fishing, this episode of his life is particularly intriguing. Evgenia was Trotsky's secretary, he wrote for British newspapers, was trusted by the Bolsheviks, but was subject of suspicion at a time when loyalties moved daily. Most revealing was his comment, when interrogated about his politics, was his answer "Fishing"!
The first part of the programme included three stories Arthur Ransome collected, at that time, for his "Old Peter's Russian Tales" The Little Cattle, The Fire-Bird & Sadko.  After beer, bangers and ice cream, the second half wove in stories that took us from Africa, the Steppes and finally the comfort of returning to the Lake District.  (Stephen Liverman)
15th Feb 2013  – "We will be free" The Tolpuddle Martyr Story
(Townsend Touring)
I would not have thought it possible that just two people could have given us such an excellent performance!! I did wonder just how it was going to pan out when we started with the mummers, who gave us a rendition of George and the dragon, with a maiden in distress and a Scottish Doctor who had a potion which could bring the dragon back to life!! This all got us back in time!!
IT IS EASY TO FORGET HOW FAR WE HAVE COME IN A RELATIVELY SHORT TIME. Our agricultural workers were relying on the use of "common land" prior to the Enclosure Acts, and also on the "goodwill" of the landed gentry!! "Let us be free" tells the story of how a small bunch of workers stood up for their rights in a legal way, only to be imprisoned, put in chains and transported to Van Dieman's Land (Australia) to be used as slaves. Their innocent families also had to suffer the consequences, but due to the courage of these people, justice eventually prevailed. This was the beginning of what eventually became trade unions.
If all this sounds very "dry" you couldn't be more wrong. The two performers brought the story to life with brilliant acting of many parts. God fearing George Loveless and his realistic wife, Betsy, were the central characters, but "George" was also, St George, the Scottish doctor, the judge and the agitator from London, while "Betsy" was the dragon, the maiden in distress, the noble lord who tricked the workers into believing they would get better wages etc then had them convicted and subsequently deported and the worker who was "the mole amongst them". There was comedy, pathos and superb musical talent, both vocal and instrumental. With the use of basic scenery and a bit of electronic jiggery pokery on a screen to give the impression of a lot more, LESS  was definitely a LOT MORE!!
A brilliant night's entertainment, enhanced by hot dogs with Tissington Bangers and ice cream!! What more could one want on a wet winter's night!!    (Val Littlehales)
7th December 2013 – Brooks Williams (support John Meed)
Both of our musicians tonight live in Cambridge and both are sons of the Manse,which made me wonder about the possibility that in such households there might only be room for only one ego, because both Brookes and John are really down to earth great chaps to spend time with. There the similarities end.
John opened with his own songs on guitar and piano taking us on a journey through his English man's life and times with gentle tunes and thought provoking lyrics incl. one about his favourite street in France. There was also a nod toward America in his song 'The Woodstock Rest Home' which he described as a bit of science fiction but actually had a certain resonance for many of his audience, but he ended with his song 'The Last Bus To Leeds' bringing us right back to earth in England. I bought one of his 5 CDs and listened to it all on Sunday morning whilst having a cup of tea and just didn't get out of my chair until it finished.
Brooks Williams is a man of his American times cutting his musical teeth in Rock and listening to English bands until he realised, as he told us, that they were giving America back a version of their roots music called the Blues. Born in Georgia and growing up in Boston Brooke's immersed himself in the Blues but that doesn't mean his music ends there as he's written a lot of his own music which for me this is clearly where he comes in to his own. A truly wonderful musician, in fact very unusually, he played us two gorgeous instrumental pieces which I could happily have listened to for a long time. He started his first set in familiar territory with Statesborough Blues and blew us amateur musicians away.  Having said that I will say that at the lunch time session in the Royal Oak the following day he was such an enthusiastic member of a group of us that all thoughts of our own limitations were firmly thrown out of the window and I think 8 members of the audience also came for lunch and made for a lovely hour together. Brookes then took us on a tour of his music and his thoughts about topics such as the Americans on irony and the introduction of traffic roundabouts in New York. His set was included lots of styles and never simply fell into blues riffs. He in fact ended the first set with Santa Claus is coming to town and added a Christmas song of his own.  Playing straight and slide acoustic guitars it was a really rich evening of music.
Brooks then asked John back and they did Norwegian Wood and Waterloo Sunset unplugged and the audience sang along from the start. Brooks then gave us one final encore and very enthusiastic audience seemed to keep both Brookes and John engaged at the CD table for some time.
For me it was a perfect evening of music in the Village hall, so with thanks to Dave, Val and Frank on the bar roll on next season.
(Alan Hassall)
30th November 2013 – Ashbourne Singers Delight by Candlelight
On the evening of Saturday 30th November, St. Peter's Church was transformed by the light of over 150 candles and the lovely tones of the Ashbourne Singers led by Musical Director, Linda Perry Smith. We were taken on a journey from Advent through to Christmas, but were also treated to a wonderful arrangement of 'Hallelujah' by Leonard Cohen. The choir tackled difficult pieces from the 'Ceremony of Carols' by Benjamin Britten, as well as leading the audience in traditional carols like 'Hark the Herald Angels Sing' and 'Angels from the Realms of Glory' (very apt with the backdrop of the Angels banners).  The audience even joined in to sing the 'Twelve Days of Christmas', probably a first for St. Peter's, but it very much set the scene for a beautiful 2nd half. Both the 'Shepherd's Farewell' by Berlioz and a clever arrangement of 'The First Noel and Pachabel's Canon' by Michael Clawson, demonstrated in particular the superb harmonies that the Choir can produce.  We were fortunate to be able to hear both the piano and the organ accompanying the performances, played admirably by Steven Duckworth and Michael Halls respectively. And close to the end of the Concert,  the audience was transfixed by the absolutely beautiful soprano voice of Linda Perry Smith, with accompanying choir, singing 'O Holy Night'. Wine, coffee, mince pies and stollen in the interval, all helped to make the evening a great event which got us very much in the mood for Christmas. Thank you to everyone who helped in the organisation of this Concert, and in particular to the Ashbourne Singers.
Review by Cathy Reavy
Quote " Alstonefield Village Hall last night for the Urban Folk Quartet. Highly energetic musicianship. If they don't get you off your seat nobody will. Superb venue too. Intimate, pretty. It has it all!"
UFQ seemed determined to liven up Alstonefield on a dreary November eve. They were vibrant, lively and threw themselves into music making with great enthusiasm. Built up of three string players and a percussionist, their own distinguished brand of  contemporary  folk had a distinct flavour of Northern Spain running through it, no doubt influenced by one of the band members home country. They played a variety of instruments with great expertise and flair
There was an exciting number when all members of the band were on percussion and also a virtuoso performance on triangle. Yes, triangle.
My favourite of the night was a hauntingly atmospheric piece that began with solo oud and built into a musical description of its title, Storm Chasers
My only disappointment was that there were few vocals – just a little taste to show what we were missing
The audience also participated with 'Big Fish, Little Fish hand dancing'  Don't  know what that is?  Shame…you should have been there. (Jani Barnard)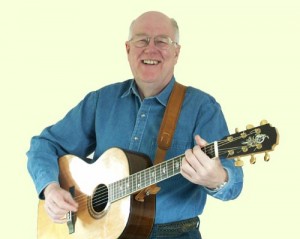 'Just don't call me legendary!' said the legendary Harvey Andrews; 'that's what people call someone when they're amazed somebody is still alive… and still playing!'
On Saturday 19th October a sold-out Alstonefield Village Hall was witness to a truly brilliant performance by a man who has been writing great songs and playing great music for 50 years. Harvey 'retired' last year but has made a decision to embark on his Glad to be Grey tour and play charity gigs only, and then only within a limited radius. So Alstonefield was blessed to be within Harvey's retirement 'circuit'.
How can one describe Harvey Andrews – perhaps warmth and humanity are two of the overriding impressions of him – both laced with a liberal amount of side-splitting humour! A brilliant raconteur, he knew his audience perfectly – most of whom were of a certain age and who therefore responded with wry recognition to the references he made to the usual afflictions and irritations suffered and endured by us – from endless texting by the young to an inability to hold one's beer for very long.
And of course his music, wonderfully fluid guitar playing, a deeply melodic voice and marvellous songs – including some from his brand new CD Encore –  that span a range of emotions from tender to sad to angry to funny (such as Driving in the Middle Lane). A consummate songwriter and performer we were treated to a masterclass in the songwriters' art.
Harvey also treated his audience to a number of extracts from his marvellous book 'Gold Star to the Ozarks' in which he afforded us a deliciously recognizable glimpse of life growing up in the 40s and 50s – a time of Two Way family favourites (waiting for the occasional Bill Haley or Fats Domino or Elvis Presley to shatter the peace of father's Sunday lunchtime), bubble gum with collectable cards – (or not.. but cheaper!), newspaper as toilet tissue (given a fancy edge with pinking shears by his mother which set the Andrews' household one step above the neighbours!) and Roy Rogers and Trigger (who proved to be rather a disappointment to the young Harvey).
So – a really wonderful evening; one of those nights that linger in the memory with a warm glow like a mug of tomato soup (Heinz of course!) All that remains to be said really is – 'Thanks for a great night Harvey.'

(Rick Ford)
Harvey's music and his book can all be found at his website – along with news and concert dates. Thanks again to Alan Hassall for the superb sound – so good that it sounded unamplified!

20th-22nd September 2013 – A Manifolk Week-end
On the 20-22 September the Manifold Valley Folk Gathering came to Alstonefield.
The weather turned out glorious and the event was judged by all I met, performers and audience alike, as a great success. Those who attended the events in the Village Hall, Peace Tent and Church had a real treat. The performers loved the acoustics of the venues – particularly St Peter's.
Coincidentally, 21st September is
The United Nations Day of Peace and on Saturday at a concert in the "Peace Tent" most of the acts attending The Gathering offered a single, poignant, heart-felt song.
In most folk music the words are particularly important and the over-riding feeling I am left with from the week-end is the huge amount of emotion that the artists invest in their performances and communicate to the audience through the intensity of their songs.
Sadly, I didn't see many villagers at the events – but those I did meet all spoke very positively of their experience. One remarked: "I'd forgotten how much I enjoyed singing with others. It was a great week-end."
Let's hope that Alstonefield is able to welcome the Gathering back again next year. (Alan Barnard)
Pictures of the event are in The Gallery.
For the  Ashbourne Telegraph report and more pictures CLICK HERE 
To see the pictures of the weekend, CLICK HERE
Over the weekend it was pointed out that the village of Alstonefield today has seem very little change from the days when villagers left for the front during the 1914-18 war, many of them never to return. During the peace concert on Saturday afternoon Rick Ford passed around a crucifix found by his grandfather on the battlefield of The Somme.
Vin served his apprenticeship around the clubs since the '70s along with so many from the stable of the legendary Acorn Agency.  Nowadays he is mostly seen at the festivals and large venues. So yet again the mystical moorland village of Alstonefield managed to attract a giant of the folk scene.
MC for the evening John Clark displayed his consummate skills as a raconteur employing a combination of dodgy research and subtle humour.
Vin quite correctly began his first set by paying fulsome credit to his support for the evening, Rick Ford, the moorlands very own singer songwriter, part time Armenian cowboy and all round good guy.
Rick moved away from his much loved themes of death and mayhem to deliver from his own pen  five strong chorus songs that so many of the audience know well.
He took us through themes of sartorial and lifestyle advice, dipping back to mayhem with mole blasting and finishing his set with a rousing bible bashing rendition of Blind Willy Johnson's classic gospel call and answer 'John the Revelator !'. Everyone in the near capacity audience belted out the refrain to the extent that Vin must have thought with trepidation that he had arrived at the moorland's bible belt, especially with a humid deep south style storm raging outside. Thunder and lightning does add so much to that song.
Vin took up the momentum from Rick and (after a short geography lesson on northern rivers) he delivered two superb classic sets, entwined with his unique humour and more than usual references to Teesside , his own birth right and matters of home and heart.
Vin took us back to the intimate human moments in his life and travels that inspired his pen with 'Silver and gold', 'Neither a Widow nor a Wife', 'She who waits and weeps', 'Slaggy Island Farewell' and 'Punjabi Girl'; mixed with his defining versions of Graham Miles and Kipling classics – 'Ring of Iron', 'Eldorado', and 'If'.
The Garbutt lateral thought wit peppered his patter and even took us on a short history of an obscure and now extinct Teeside sport that is unlikely to get a Sport England grant for its re-introduction. But who knows, in years to come Time Team may unearth the great Hartlepool Kippling Yard.
On a personal note, Vin shared with us his homespun opinion that reviewers are people who write about people who they have read about. This reviewer must be the exception to that rule in that I first booked him in the 1970's on the recommendation of Jim McPhee and Mick Elliott and have seen his life's progress through all its stages. He writes, speaks and sings with a unique and engaging passion and last Saturday we witnessed a Vintage Garbutt performance which he finished with an encore number dedicated to the folkies over the years who have provided him with a 'Welcome so Warm'.
Sometimes controversial and never afraid to say what he believes – indeed both he and Rick are true singers of folk for folk.
Thank you Dave and the team for another classic Alstonefield Folk Evening. You have delivered yet again the financial and technically impossible. Great credit also goes to Alan Hassall on sound.   (Pipedreamer)
Outside Alstonefield Village Hall it was a cold summer evening (again) but inside there was a wonderfully warm reception for another of the Village Hall's concerts.
First to be introduced by the MC for the evening – the droll and dryly understated Mister John Clarke – were the wonderfully named Katy Dog Doo Dah Band – an offshoot of the festival Ceilidh band and the Wigan Ukelele Club. Ukeleles, banjo and washboards (with judiciously timed car-horn toots from Dave) blended together in a joyously gleeful cocktail of English Music Hall songs along with a sprinkling of favourites from the band from whom they take their inspiration – the Bonzo Dog Doo Dah Band. It was all delightfully infectious and got the evening off to a great 'fun' start.
The second act was Cambridge singer/songwriter. John Meed. John's beautiful songs ranged from the wryly humourous Woodstock Rest Home – an anthem for 60's hippies everywhere – through a hymn to his favourite street in Paris (so Parisian in feel that you could hear an accordion even though it wasn't there!) to the world weary Running and his signature song – Last Bus from Leeds with everyone joining in on the irresistible chorus.
But the really spell-binding moment for this listener came when John switched to the piano, announced that he hadn't sung the next song in ages, and then proceeded to unleash a powerfully heartfelt song of love to his wife. Happy love songs are notoriously difficult to write without sounding clichéd or smug or overly sentimental but this was just perfect… truly beautiful.
Al Parrish seemed to blow in to the Village Hall like a wild force of nature straight from the Canadian backwoods. The Hall seemed almost too small to contain this big man – a larger than life character in every way with his mane of red hair and his regency green satin shirt and when, walking away from the microphone for fear it would blow the audience's heads away, he began his first set with an unaccompanied Gaelic song delivered in his powerful yet sweet tenor voice, Alstonefield knew that somebody very special had arrived to entertain them. We weren't disappointed… this hugely engaging personality delivered a varied set of songs from his own wryly humourous observations on the eternally mysteries of the relationship between men and women (Women Fall In Love With Potential) to rousing pirate songs (with an energetic nod to the Who's My Generation!) to songs about driving through the back roads of rural Canada. Explaining that his father had been a big jazz fan, Al then proceeded to grab hold of his famed double bass to play a finger-numbing Lambert Hendricks Ross jazz piece and the great Tom Waits' The One that Got Away. Simply brilliant!
Al's heart is as big as his stature and when he sang Stephen Foster's Hard Times Come Again No More, the song was rendered even more relevant to the times we're living in when he added a rousing extra verse of his own asking that we do all we can to make sure that 'hard times come again no more.' And we all joined in…
After the main set was over John Clark, who'd presided expertly over the evening, pleaded with Al to come back and he generously gave us two encores. His last song of the evening was a wonderfully inspiring unaccompanied song called Fall Down Like The Rain on which he succeeded to get the entire hall singing with the chorus.
Earlier in the evening Al had sung a song about a White Squall – a sudden wild gust of wind that whips up out of nowhere from over the Great Lakes. 'Not unlike Al himself,' I thought as the Village Hall emptied into the night.  (Rick Ford)
In describing the Zulu Traditional performance in the Village Hall on 25th May one cannot help using superlatives.   Thanks to Live and Local, an organisation sponsored by the Arts Council and local authorities to bring performances to small venues which could not normally afford them, we were treated to a magical evening of traditional song and dance.  Starting with a dance intended to encourage its participants before an inter-tribal battle, with spears and shields, the six men, dressed in animal skins and fur, seized our attention which remained riveted for the rest of the evening.  The singing, particularly the strength of the female vocalist's voice,  accompanied by drum beats, and performed with rhythmic movements of legs arms and hands was spellbinding,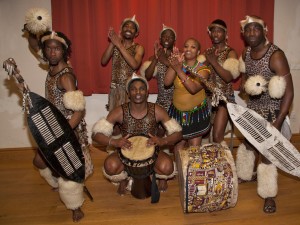 and one was amazed by the enthusiasm, energy and athleticism of the performers who appeared to enjoy it all as much as the audience did.   A truly wonderful evening.     (Pen Gilman)
With the bass voices taking over the pulpit and the sopranos in the side pew, some 40 members of the Fishpond Choir from Matlock Bath filled our lovely Church with beautiful song. Led by Musical Director Dana de Waal and accompanied by his wife Anne, the Choir treated a full house to an incredible variety of music from around the globe.
The rousing harmonies of Anne de Waal's compositions 'Dona Nobis Pacem' and 'For God so Loved the World' topped and tailed  the concert. African hymns, songs & spirituals that were enhanced by very talented drummers & soloists (or 'callers'), played a significant part in the evening's entertainment, making a real impression on the listeners, the stories behind the music giving them even greater meaning.
Dana's dazzling rendition of the famous 'Funiculi Funicula' in the first half, left us all wanting to hear more of his superb tenor voice, and we were not to be disappointed. Later on, Dana's clear love of singing came across so vividly in 'Thulasiswe' and 'You'll Never Walk Alone'.  The second part of the evening started off with the African song, Nampaya Omame' with the deep tones of the basses, gradually building up to a fabulous crescendo with entries  from the tenors, altos & sopranos. This song was all about cakes and sweets, we were told, and it was followed very aptly by a punchy version of 'Ain't She Sweet'. Dana's arrangements of the music throughout the evening were impressive and none more so than in Abba's 'I have a Dream'.  The second half also gave us the South American 'La Bamba' and the stirring, almost mystical sounds of the traditional jewish folksong 'Havah Nagilah, sung in Hebrew. There was a great connection between the choir and the audience and it was a wonderful evening. We can't wait for Fishponds to return to Alstonefield.  Watch this space!
(Review by Cathy Reavy)
There was still snow in the village hall car park but it was the first day of spring.  The temperature had soared to 9 degrees Celsius, the early daffodils were beginning to show yellow; someone had heard a bird sing.  Inside the packed village hall there was an air of expectancy and almost a hush.
First it was the support band; Rick Ford from Onecote, together with Tim Mundey on mandolin and the outrageously talented young Robbie Sherratt on fiddle.  Rick writes his own songs and is a story teller. He sang about a Somali orphan, Colin the tramp and an anonymous mole catcher who used a shot gun.
My favourite was "smoke and mirrors" a romp through the clichés of homespun philosophy.  He strummed his guitar: wild black hair, harmonica around his neck.  He was Bob Dylan but with a wider vocal range.
Throughout the set there was a delightful, haunting combination of mandolin, guitar and fiddle but perhaps most in evidence in his final song, "Reflections of Madonna" inspired by travel around Armenia.
Rick is half Armenian but Tom McConville is all Geordie.  He is The Newcastle Fiddler and 2009 BBC Folk Awards Musician of the Year.
The band took the stage and looked underwhelmed by our applause and seemed uncertain as they began that we would know their songs. You can't sing folk songs if the audience doesn't know the choruses. But we knew how to clap in time and the volume from the audience swelled; the band relaxed a little.
They sang songs about 5ft 1inch Irishmen who smoked pipe tobacco as cigarette roll ups and about knife grinders. Tom in his rich Geordie voice did most of the singing (sometimes, amazingly, playing his fiddle at the same time) but was ably assisted by the others, particularly David Newey on guitar.
Interspersed between the songs were instrumentals. The fiddle raced through the notes, jiggity jiggity jiggity; the guitars strummed and plucked in their private guitar war and squeeze squeeze, the piano accordion kept it all together. Stunning!  All were highly accomplished in their own right and they combined sublimely as a band.
The interval came along with the merchandising opportunity.  Phil Murray, on acoustic bass, still seemed concerned about the quality of the audience and explained that the normal line in T shirts and bandanas had been replaced with cardigans.
There was a general hubbub during the interval "excellent; what a happy lot; very good aren't they; brilliant I knew as soon as they started".
The second half started more confidently, with more self deprecation and with very warm acknowledgements to Ian Jones, the sound engineer.  As well as songs by Tom, we had ballads by Steve Tilston ("Press Gang" and "Slip Jigs and Reels") and by Richard Thompson.
And then off again, strum strum jiggity jiggity squeeze squeeze. Fiddle-led instrumentals but with all instruments featuring strongly.  Delightful.  One particular tune had its melody set by Shona Kipling on the accordion: it seemed to be loosely based on the Captain Pugwash theme.   Shona who? Only a UK champion accordion player and finalist in the BBC Young Folk Awards.
Their final song, wonderfully led by the Newcastle fiddler was "When the boat comes in" Even I knew this one.  And then of course the encore, an instrumental medley of James Hill tunes.  Tom invited young Robbie to join the band.  Robbie's face was one big smile. There was dancing in the aisles, arm waving and clapping.
Wow! A good night was had by all. (Rob Handscombe)
We didn't see or hear any devils in the Village Hall on Saturday 16th February, but we were treated not only to some haunting music in its own right, but also to a myriad of scenes created for us by three musicians and one story teller. Dressed in contemporary clothing, and totally without props, the company created a magical and dramatic theatrical experience transporting the audience into three different story worlds. The timeless tales were retold with a vigour, creativity and confidence that engaged the audience from the start. Rarely can two forty-five minute sessions in the Village Hall have passed so swiftly. The hypnotic skill of the story teller seemed to delight even his own colleagues, who appeared as attentive and receptive to the unfolding stories as the audience.
If Scheherazade was indeed the inspiration for this event, then she, herself, could not have been disappointed with the result. Moreover, in these days of super fast technology, it is reassuring and refreshing to find that the ancient art of story telling is still a powerful and dramatic tool. We even had a chance to pass the mead cup in the interval!
What a gift to be able to create such memorable scenes using the human voice, enhanced only by musical accompaniment!
If you missed this event, try not to miss the next opportunity to enjoy the performance of this talented company, and, perhaps, you too might discover the answers to some fundamental questions, which might have perplexed you up to now.  (Chris Baker )
Splendid evening at the Village Hall and not just because of Richard Hobday's best Tissington sausages in the half-time hot dogs. A good crowd had assembled for a Live and Local sponsored evening. The poster promised a performance of 'A Love like Salt' by The Devil's Violin Company. The newspapers and TV news this week have been dominated by the finding of horse meat in beef burgers – at the very least a case of mislabelling. As the quartet of performers entered the hall, I felt that the same accusation of mislabelling should apply – there was only one violinist and no sign of a devil at all.
The violinist was one of a trio of musicians, the other two carrying piano accordion and cello. The fourth member of the company was the front man. Would he sing? Would he tell jokes? No, neither; he was a story teller and the title of the evening was the name of one of his stories.
He said there were no new stories, only old ones even if told in new ways and he told three, each started in the first half and concluded in the second.
His stories had the shape of old stories; there were kings and castles, maidens and princesses, lords and knights. Each story was not just beautifully and captivatingly told but also accompanied by background music to match any film score. Our anticipation of the story lines was provoked by gently plucking on violin and cello, all three instruments combined to crescendos on the occasions that the tension mounted and the links between stories most enchantingly made by elegant playing and some gentle sung harmonies.
"Ah", I hear you asking, "but did the stories have a message, a meaning, a moral?" Indeed they did. We learned what women want (clue, you won't find out by asking a man), that keeping a promise provides more benefits than you can imagine, and that the finest gift a mother can give a daughter is a collection of three dresses.
Intriguing eh? You get good stuff at the Village Hall.  (Rob Handscombe)
Another packed Live and Local event organised by the wonderful 'Village Hall Team'  Again super interval food, this time in the form of Tissington sausages in rolls  (too superior to be termed hot dogs) and scrummy Bradwell's  ice cream.
Lady Maisery  themselves?  Well just enchanting. These three young lasses treated us to a wide and varied repertoire including ballads, folk musics usual tales of unrequited love,  Shape Note singing  and their own compositions,  all delivered either acappella  in hauntingly beautiful and beguiling harmonies  or showing their great versatility playing Harp, Banjo, Accordion, Fiddle and even a  Ban Sitar.( Prompting one person to be heard wondering what sort of case THAT had)  My own personal favourite was to hear them perform their very special  Diddling or Singing Tunes , where the words of a song are replaced with, well, 'diddle and diddly do and diddle de dum' etc.  This all delivered in interesting and demanding rhythms  and  in clean, pure harmony. Quite bewitching.
To end their program we were treated to a spectacular clog dance of great complexity  and as an encore a soft and beautiful acappella piece.
In the interest of keeping this report truly representative  I elicited the help of friends and asked them to jot down a few thoughts of their own during the performance.  Their comments are as follows……
'What an amazing blend of voices and instruments giving a very distinctive sound'
'Three young voices in beautiful harmony,
'The harp balanced on cases looking, for all the world, as if they had learned their trade busking at railway stations. They took off one garment before the first song, two more before the second. This promised to be more racy  than previous Live and Locals I had attended!'
'Lovely balance of sound . Three beautiful voices'
Yes,a truly special evening. I shall certainly be looking out for Lady Maisery in the future.
(Jani Barnard)
Well, what a night we had last night at Alstonefield, just when you think the nights there can't get any better, they move it all up a notch and you are blown away all over again. The wonderful folk of the village once again welcomed us to their memorial hall, and served with delicious mulled wine to start the night. As usual the hall was set out cafe style and this time with lovely Christmas arrangements on each table, complete with red ribbon bows and a candle (extra excitement on our table as we wondered if we could get through the entire night without the ribbon catching fire!) We were fed at the interval with delicious shepherd's pie followed by warm home-made mince pies. They had also invested in some great lighting, which like the PA was tremendously effective but understated.
The artists we went to see were Martyn Wyndham-Read and Iris Bishop, but we knew that there was to be support from Malc Hawkwsworth and Pete Hopkins, because they had told us. What a surprise we had when we found that there were three support acts, all excellent and all very different. First was Arnie Rainbow who sang three songs from the 1960s, not the most obvious of songs from that era, but beautiful and once done in his own style, timeless. His last song was one of his own which was so good we just can't wait to hear it again. The next support was Malc and Pete, who did a couple of tune sets with Malc on Northumbrian pipes and Pete on concertina, Pete sang a great chorus song in between, and finished the set with a very funny monologue. The third support was John Meed, whom we had met there earlier in the year. His songs were all his own and included a fantastic one based on the Aesop's fable of the Ant and the Grasshopper, another song that we hope we hear again.
Then there was Martyn and Iris, it is quite a few years since we have seen Martyn and we had been looking forward to it tremendously. We were not to be disappointed, they were wonderful. For those of you who have never seen or heard him, he has a full rich voice and a very calm and gentle delivery (I would never want to miss a second of his set, but would love to have him sing me to sleep!). He sang songs that have covered his whole singing career, from the first one in his stock book to a new one which was first time out. Iris provided accompaniment on concertina and accordion, which matched Martyn's singing perfectly in its gentleness (indeed on the first song I almost thought that he was singing unaccompanied as the sound was a gentle and natural as breathing). The star song of the night for me was "Where Ravens Feed" by Graeme Miles, one of the best songs ever written, and one with which many people could identify. In true folk concert style, all the support acts were called back to the stage for one final song, another Graham Miles song, "My Eldorado" and so the night ended. The songs and tunes and voices were dancing around in our heads as we drove home across the hills with the moon shining bright and the stars twinkling in the frosty air. A night never to be forgotten. (Lorna Davies)     (Photos to follow)
The scene was set with the Church  lit by 160 candles against the backdrop of the large angel banners. Performing to an audience of over 130, the boy Choristers of Lichfield Cathedral produced a wonderful purity of sound  at their performance at St. Peter's Church on Tuesday 20th November.  Admirably led by Director of Music, Ben Lamb, the Choristers sang a varied programme of music from the baroque to the popular and with particularly lovely renditions of Psalms 23 and 130. Many of the boys sang angelic short solos, and we were also treated to two organ pieces performed by Martyn Rawles. A big thank you to the Choristers and to everyone who contributed towards this very enjoyable evening.
Hopedale impresario, Dave, has done it again!  There was a near full-house at the Village Hall with an audience from near and far to share a delightful evening of acoustic folk music by moorland locals Breeze and Wilson – a treat alone, but with them were the terrific Megan Smith and Sam Misner. The evening, compered by Wetton's John Clarke, started with several delightfully harmonic numbers by guitar locals B & W, including some "toe-curling" jokes along the lines of
"…the snail racing was sluggish" – the jokes did not improve, but the music continued to excite.  The Californian based guitar and bass duo of Smith and Misner took to the stage.  Once again, we were treated to tight harmonies – pure Americana – delightful.
At the interval, a delicious hot meal and pud, together with ice cream by our own ice cream lady, Bridgette, were enjoyed.
Smith and Misner started the second session with terrific songs such as 'Madeline' and 'Bird Street'. Finally, Breeze & Wilson joined in and we were treated to four wonderfully harmonic musicians for the last session that concluded with a 'blue grass' medley.  An evening to savour. (Noel Peat)
18th August 2012 – Jez Lowe
A real feel-good factor presided over the Village Hall on the evening of Saturday 18th August, where we were offered superb entertainment by folk singer Jez Lowe, admirably supported by the Katy Dog Doo Dah Band.  The 'WHAT'?  you might be justified in asking…… the name alone makes you smile, but the music made us grin and lol (laugh out loud).  From 'Dirty Old Town' to favourites such as 'King of the Road' and 'Aint She Sweet', the Band soon had us singing along. The array of instruments was equally impressive and included a kahoun and an accessorised washboard played by our own Dave Littlehales.
Then came the main Act of the night, folk artist favourite from the North East, Jez Lowe, who blew us away with his level of versatility and original material.  He alternated between instruments so many times that on one occasion he found himself playing the wrong guitar for the song, but continued totally unfazed.  His lyrics are thought-provoking, highly entertaining and simply clever, a highlight for me being the 'Ex-Pitman's Potholing Pub Quiz Team'. Jez uses subject-matter for his songs that demonstrates an amazing degree of diversification; worth a mention are Air Raid Shelters (with 'Waiting for the All Clear'), Charles Darwin and Hartlepool Town. The banter from Jez between numbers kept us glued to our seats, although the Harmonica story produced a few sympathetic grimaces!!
Another mouth-watering supper from the Village Hall Committee – this time a lasagne & salad followed by refreshing fresh fruit & cream – rounded off the evening to perfection.
Cathy Reavy
What could be nicer than supper at the village hall? Well, obviously, supper with entertainments and on Saturday, 7th July, on a balmy if somewhat damp evening, we were treated not just to pie, peas and strawberries but also to an evening of musical delight. Thank you again Dave Littlehales and the Village Hall Entertainments Committee.
Excellently supported by John Meed, Flossie Malavialle, the girl from Nimes who became that woman from Darlington, treated us to an evening that was simultaneously très bien and proper mint like.
According to her flyer she has 'a voice like a lark', an 'eclectic repertoire' and 'beauty, clarity and passion'.   Last year she made a world tour that took in Europe, Hong Kong and Australia.  This year she surpasses herself: Alstonefield.  Is there no holding this woman? Travel – or at least place names – was a dominant theme of the evening.
John Meed (from Cambridge) warmed us up with three of his own compositions to start the first half and three more after supper.  He began with a song about Belper and ended with one about Leeds. He bouncily encouraged us to think of the washing machine as a metaphor for the human condition but perhaps he earned his loudest clap with a song about the Woodstock Rest Home, an imaginary retirement home for rockers. Oh yes, they were all there – Bob Dylan, Mick Jagger, Rod Stewart, Dave Littlehales.
So what of Flossie and her engaging French Geordie accent?  She came from France on a teaching exchange some ten or so years ago and says she can't go back to teaching in France – "they woodna understand me like".  At heart she remains a language teacher, explaining amusingly her French take on selected English words and sayings. I learned that duvet is a French word meaning down, though not in a depressed sense and that oomph is va va voom. She particularly likes giving songs a bit of va va voom.
Her repertoire was indeed eclectic.  Unlike John, she does not write her own songs and her sources were diverse; songs made famous by Edith Piaf, Roberta Flack, the Eagles, Eva Cassidy; songs by Jacques Brel, Keith Donnelly, Willie Nelson.
There was a moving song by Colum Sands, written in the wake of the twin tower attack of 9/11 and sung on the seventh anniversary of 7/7.  There were songs in French, in Spanish and in English. Some almost without a Geordie accent.  There were songs we listened to and songs – some in French – that we joined in.  For one song the chorus was 'la la la' which apparently means the the the, but in a feminine way.
Was her voice like a lark? I imagined sweet trilling and got power, versatility and energy.  Yes, exuberance like a lark, but there was also the urgency and insistence of a macaw. Her influences are strongly Piaf and Brel and she has a particular affinity with his vigour. She is more Edith than Eva, but more than anything she is irrepressibly Flossie.
If you missed it, visit her web site and buy a CD.
Rob Handscombe
(My thanks to Flossie and John for providing such wonderful entertainment, to The Village Hall committee for their hard work, to Rob Singleton (FCB) for manning the sound desk, to Rob Handscombe for the above review and to everyone who supported us on the night.  DL)
A review from Wally & Lorna Davies who edit the local folk newsletter.
Hi folks
I've had so many mails since I sent the reminders yesterday that I decided to send another one.
First I need to tell you of the fantastic time we had last night at Alstonefield. I'm not saying all folk events should be like this, as there is room and a need for all types of events in all types of venues, but what a fantastic time we could all have if all communities, rural or urban could put on a night like it. Okay, the venue is not enormous, but it is fairly substantial and was set out cafe style. The tables were three deep and we were on the back row. We had a perfect view of the stage the whole time. There was PA, but it was so good, that you hardly noticed it. Nobody was talking and spoiling it for anyone else. It was not obvious who were locals and who were visitors because everyone was friendly. There was a two course meal in the interval which was delicious and so well organised by quite a team. There were also books for sale. The vicar was there and having a great time.
Then we come to the music, the support was John Meed, from Cambridge. A singer/songwriter who did a short spot in each half. His songs were all quite different from each other, and very entertaining. I especially liked Don't Blame it on Belper. He was an utterly charming man and I hope to get the opportunity to see him again. The main guest was Flossie Mallaville whom we have seen before, I think we first saw her at Maghull in 2002 when Colum Sands invited her up in his set to do a song and then at the same festival in 2003 when we saw her do a whole set. I remember being amazed by her voice then, I am even more amazed now by both her voice and her humour. I genuinely enjoyed everything she did, but my favourite song was one by Richard Grainger, and I would have enjoyed it even more if she had performed that one unaccompanied – but then, as most of you know, I always enjoy songs unaccompanied when a singer has a great voice.
Best value night out anywhere at £12 a ticket, here's to the next one which is Jez Lowe in August – book your tickets now, they are selling fast. Our thanks to Dave and Val and all the team who made last night one to remember.
St. Peter's Church
Led by Musical Director Richard Hayward, The Dalesmen Male Voice Choir treated us to a wonderfully varied programme of music ranging from numbers such as 'You'll Never Walk Alone' to 'Sloop John B' and 'Non Nobis Domine'.  The Concert on Saturday 28th April was attended by Choir followers and local people alike, all of whom raised more than a smile at the skit on 'The Messiah', read by a member of the Choir. Thank you, Dalesmen, for a thoroughly enjoyable evening.
4th December 2011 – "When Angels Sang….."

A magical atmospheric evening of music for voice & harp, brought the Craft Group's Festival of Angels to a magnificent conclusion on the evening of Sunday 4th December. Our Vicar, Anne Ballard (soprano) and harpist Eleanor Hudson, treated us to wonderful music and a selection of readings by Eleanor's family.


It was a real delight to enjoy the Breeze and Wilson experience last Saturday night at the village hall. They were playing to a packed house and entertained with their own unique style that suggested country/rock with just a hint of bluegrass and a smidge of contemporary folk. It is very difficult to pigeonhole Breeze and Wilson as their music perhaps can be best summed up by describing them as ….."Smooth". Most of their renditions were penned by themselves with just a couple of cover versions of other artist's songs. It is obvious that they really enjoy performing together and the banter between them throughout the two hours was obviously genuine whilst at the same time providing plenty of chuckles for the audience. An added bonus for the village hall was that they were performing free of charge and even refused travel expenses; how generous is that ?? So if you do get a chance to see and hear these local lads grab the opportunity, you won't be disappointed. (John Clarke) Thanks to everyone who helped make the night such a success. £950 was raised for the Village Hall Refurbishment Appeal. "The lads" will return on 6th October 2012. Go to www.breezeandwilson.com to hear and see them for yourself.
Not quite dancing in the aisles, but definitely dancing in the pews! Alstonefield gave a warm welcome to the Bob Hudson Jazz Trio with vocalist Joanna Hudson who entertained us with such numbers as 'What a Difference a Day Makes', 'Jump Jive' and 'The Lady is a Tramp'. The performances were truly inspiring and by the second half , many of us were 'dancing' along to the music in the pews. Thank you to all who attended for supporting this evening.  Listen to Joanna sing 'I left my Heart in San Fransisco'
With virtuoso performances from Amy Perry and Martin Bickerton of the Astrum Guitar Duo, our evening's entertainment  at St. Peter's Church was a great success. A spellbound audience was treated to a wonderful variety of music, including being introduced to the cajon drum –  a sort of percussive wooden box – expertly played (and sat on) by Martin in accompanying various pieces, notably the opening Brazilian Jongo. To hear music from the Duo, please click here and to order their new CD, Inspirado por Espana, click here. For more information about Martin & Amy, take a look at their website at www.astrumguitarduo.com
Performing at St. Peter's Church for the first time on Saturday 18th September, some 30 members of  the Tideswell Male Voice Choir made a wonderful sound in front of an enthralled audience. Expertly directed by Dennis Kay, we were treated to such musical classics as 'The Rhythm of Life', 'Unchained Melody', 'There Is Nothing Like a Dame' and 'Wonderful World', to name but a few.  Audience participation was particularly encouraged and we felt part of the Choir in the rendition of 'When All The Saints Go Marching In'.  Thank You, Tideswell, for a fantastic evening.To hear and see Tideswell MVC perform Hallelujah (Leonard Cohen) click the YouTube link HERE.
Musical Theatre at St. Peter's
We expected a choir, but what we did NOT expect was such a brilliant display of musical theatre from the Wallingford Children's Chamber Choir on Saturday 5th June. Magnificently co-ordinated and choreographed by Sue Ledger, the choir's performance was extremely impressive, involving nearly all the children in solo renditions and even in conducting their fellow singers.  As soon as the evening began, with the children placed around the church singing 'Amazing Grace', we knew we were in for a treat. Nearly all the songs involved actions, but the children surpassed themselves with their acting and singing skills in favourites from 'The Sound of Music' and 'Oliver'. Thank you, Wallingford, for a super night.
What a fantastic evening!  'This Church is the most wonderful place I have ever sung in',  said vocalist Joanna Hudson as she began to sing 'It's a Wonderful World', one of the opening songs of the Concert at St. Peter's on Saturday night. The Bob Hudson Trio treated us to a great selection of songs during the evening and the audience thoroughly enjoyed the whole programme.  Such was the response from the audience, that we have engaged the Trio and Joanna to return to Alstonefield on Saturday 24th September 2011. Click here to view a short video clip
The Choristers sang  by candlelight to a spellbound audience who enjoyed the music of Purcell, Bach & Vaughan Williams as well as more recent works by Andrew Lloyd Webber and John Rutter. The performances of the soloists lead by Head Chorister, Henry, enhanced the evening, and the listeners seemed particularly enchanted by the duet in Lloyd Webber's Pie Jesu. Special thanks must go to Philip Scriven, Master of the Choristers, and Martyn Rawles, Organist,who gave a magnificent rendition from a Mendelssohn Sonata.
Derby Choral Union gave a wonderful performance on a warm Saturday evening. Conducted by Richard Dacey and accompanied by organist Tom Corfield, the choir opened the proceedings with Vivaldi's 'Gloria' and concluded with excerpts from Haydn's 'Creation.  There were solo performances from members of the choir and also from Tom Corfield. The audience enjoyed wine and nibbles after the concert.
We were treated to some fantastic music from four talented young musicians from the Chetham's school.  Pictured is flautist Joshua Batty who featured in the whole of the 2nd half of the concert. He absolutely stunned the audience with his playing. Joshua is 16 years of age and will be entering the Young Musician of the Year Competition in October.  We will follow his progress with great interest.
This page is maintained by Cathy Reavy