Photographs: Top row, left to right: Kath Reynolds talking on 'Food, glorious food'; Doris Goodwin cutting the 59th Birthday cake at the birthday party; Carrie Ross holding her certificate for completing her walk on the pilgrim route to Santiago de Compastela.  Middle row, left to right: watching a narrow boat enter the lock beside The Lock House restaurant at Great Haywood; enjoying flowers and chickens in the garden at the Emma Bridgewater Pottery;  the tractor and trailer ride at Highfields Happy Hens; watching a demonstration at Masson Mills Working Textile Museum.

WE ARE 60 THIS YEAR! 
TO CELEBRATE THIS VERY SPECIALYEAR, WE WILL ALSO BE CELEBRATING THE NATURAL, BUILT AND CULTURAL HERITAGE OF THE SOUTH WEST PEAK LANDSCAPE AREA, FOR WHICH WE HAVE BEEN OFFERED A GRANT BY THE SOUTH WEST PEAK LANDSCAPE PARTNERSHIP.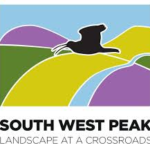 MANY OF OUR SPEAKERS AND OUTINGS WILL BE ABOUT THE AREA, AND WHILE NON-MEMBERS ARE WELCOME ON ANY OCCASION, THESE PARTICULAR EVENTS MAY BE OF SPECIAL INTEREST – DO COME AND JOIN US! 
Everyone is welcome to join the Club, which, contrary to some people's ideas, is definitely not just for old people!  We also welcome non-members at any of our meetings or outings, so why not come along a give us a try?  We have a very varied programme each year.  From late March until early December, we meet on the second and fourth Wednesdays of each month, either at Alstonefield Village Hall or to go on an outing.  A coach collects people from many surrounding villages for the outings, and members collect those without transport to bring them to meetings in their cars.  Every time we meet there is good food on offer, as well as plenty of laughter, plenty to make us think and to entertain us, and wonderful friendship.
Membership costs £4 per year, afternoon tea at meetings costs £5, the coach for outings costs £6, transport to meetings in a car costs £1.  We bring items for a grocery raffle to each meeting and have a 'bring and buy' table at each meeting, and also hold a raffle on each outing.
For more information, please ring Lorraine on 01335 310353 or Ann on 01298 84394.
OUR PROGRAMME FOR 2018
(outings are in red)
28th March       2.30pm  First meeting, including AGM and cream tea
11th April           Lunch at The Boar's Head, Sudbury, visit to Byrkley Park
25th April           2.30pm 'Cheese factories in the South West Park' – Alan Salt B&B
9th May            Lunch at The Fickle Mermaid, drive into South West Peak Landscape Area
23rd May            6.30pm 'The Mist Covered Mountains of Home' – Byron Machin B&B
13th June            6.30pm 'Products that Changed our Lives' – Brian & Lorraine Hawkins B&B
27th June            6.30pm 'Walking in the South West Peak' – Sally Mosley B&B
11th July              Lunch at The China Garden, Festival Park, visit to Freeport, Talke
25th July               6.00pm 60th Birthday Party at Alstonefield Village Hall8
8th August           Visit to The Trentham Estate
22nd August         6.30pm 'Heritage of the South West Peak' – Sheila Hine B&B
12th September  Lunch at The Winking Man, drive with Sheila Hine round South West Peak
26th September   6.00pm Harvest Supper
10th October       2.30pm 'Magic, Myth and Memory of the Moorlands' – Doug Pickford B&B
24th October       2.30pm 'Life and Work in Nepal' – Richard & Joyce Odell14B&B
14th November     Christmas shopping at Burton-upon-Trent
5th December     Christmas Lunch at The Bentley Brook, Fenny Bentley
B&B = bring and buy table
This page is maintained by Lorraine Hawkins