Welcome to our Community website.
"The Homing Stone" – Hugh Lupton.  15th March 2014 – Village Hall
Door 7pm for 7.30 start. Ends approx 10pm
Hugh Lupton is one of Britain's leading storytellers and his assured, distinguished style has thrilled many  in his performance of 'Beowulf' over the last year.
He now returns with an epic story from much more recent times and one which has a family connection for him. Further details here.
Licensed bar.Tissington Bangers and Bradwell's Ice Cream on sale during the interval.
A live and Local Presentation
Tickets £9 (Children £6) from – Box Office : 01335 310322 OR hopedalemusic@btinternet.com
Annual Parish Spring Clean – Saturday 22nd March, 9.30 am.
To take part in what has become a very successful annual event, all volunteers would be very welcome to meet outside Alstonefield Village Hall at 9.30 am. on Saturday 22nd March. Home-made soup and hot drinks will be provided afterwards at Wesleyan House.
Beatus Choral Ensemble – Saturday 22nd March, 7.30 pm.
This 16-voice chamber choir from Yoxall is to perform a selection of music from the 16th to 21st century at St. Peter's Church, Alstonefield,  on Saturday 22nd March. Canapes, wine and coffee will be served in the interval, included in the ticket price of £8 per adult. Tickets available now from Cathy Reavy on 310125 or from Natural Choice in Ashbourne. Click here for more information.
Leaden Boot Challenge
The popularity of this challenge event grows each year, largely due to our friendly group of volunteers, cheering the entrants on and providing help when needed.  It benefits the village and, as well as being a tough event, it is also a great social occasion.  If you have not us helped before and you are free on Sunday 18th May let Carrie know on 310009.  She will be pleased to hear from you.  Of course, if you feel up to the challenge of the 26 mile course you should contact Noel on 310000 – NOW
Get Fit with Pilates and Zumba Classes
Pilates on Tuesdays at 8.00 pm…… Zumba on Fridays at 9.30 am.
Why not join our Zumba and/or Pilates Classes in Alstonefield Village Hall during term time, run by fitness instructor, Tracy Taylor.   Fast moving Zumba takes place on Friday mornings at 9.30 am (£6 per session, or £5 if paid each term in advance), and Pilates classes are on  Tuesdays at 8.00 pm.  (£5 per session). Enquiries: – Pilates contact Claire (310047) or Liz (310060), Zumba contact Cathy (310025).  All are welcome!
Hugget -  Winter Update
Katie from Alstonefield has developed her own handmade fleece jacket  business and reports that "2013 was quite a whirlwind for me, as I imagine it was for a lot of you! I started the company in March and since then have left my hat designing job to focus on Hugget full time and started to outsource production to a family run company who have been manufacturing in Leek since 1826……." read more here
New Year's Market – Saturday 4th January
Our 3rd Annual New Year's Market proved a great success with a great variety of stalls and delicious refreshments.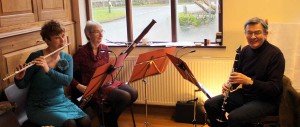 There was a lovely, seasonal atmosphere with the Manifold Trio playing for much of the time, joined by Dave on the washboard for a couple of numbers! All profits are in aid of the Alstonefield Village Hall Re-decoration Fund. A big thank you to the organisers, stall holders and to everyone who donated and came along.
Village Hall Games Evenings
All are welcome to come along and enjoy.  Normally the first Friday of every month, 7.30 to 9.30, Village Hall. Next dates 7th March, 4th April.
Friday 1st November 2013 marked the first of the Village Hall Games Evenings. The aim was to offer a monthly relaxed fun evening for all ages – and a wide range of ages were represented.  There was table tennis, darts, table football and snooker for the active and scrabble, draughts and other board games for those who felt they deserved a rest.  Tea and coffee were served but it was OK to bring your own drink if preferred.  Big thanks to Phillip and Fiona Goodyear for all the organisation, accumulation of games and running the evening.
Carol Suppers
2013
The two Carol Suppers on 20th & 21st December brought good cheer, fabulous food and great entertainment from the children and the clockwinders, not to mention humourous storytelling by Pen Gilman and appearances by Father Christmas on both nights.  Thanks to everyone involved in the evenings, which have raised £1078 for Cancer Research UK. Click HERE to view the Clockwinder's performance on Saturday night  (13 mins).
Gargoyles Take Stock of Momentous Year
 A hearty winter casserole in the convivial atmosphere of The George was the prelude to Alstonefield Cricket Club's Annual Awards presentation for 2013.  The members reflected on the progress the club had made in 2013, the commanding victories, the narrow defeats and most importantly, the fun, in what turned out to be a good summer for cricket and some considerable individual achievements . To read more of this article, CLICK HERE

Diving with a Loggerhead Turtle
Enjoy this fantastic photograph of Alstonefield parishioner, Paul Binfield,  diving with a Loggerhead Turtle in Northern Cyprus (click to enlarge)
Urgent appeal from the First Responders
Click on the image on the right for an important message from Wetton and Alstonefield Community First Responder group
Did you know that you can register as a donor online via the Anthony Nolan Trust?  You have to be aged 16-30, and once you've completed the form, you get sent a spit test in the post and that's it.  Click here for the application form.
Gallery Photo Albums
If you haven't looked recently, you will be surprised at the number of new photo albums we have in the Gallery.  The newest of these is for all local wildlife (flora and fauna), seen in the Alstonefield parish.  There is a photo album on the recent Leaden Boot Challenge and a new 2013 cricket album featuring our local team, the Gargoyles.  Now that the sun is shining again, now might be a good time to remind ourselves of the dreadful winter we had.  We have an amazing 159 pictures of snow, ice and other cold things!   PLEASE SEND US YOUR OWN IMAGES, particularly wildlife pictures.  To access the Gallery, click on the link at the top of this page.
Restoration Grants
Some home or business premises' improvements may qualify for a grant of up to £4000.  Click HERE to see the Ashbourne Telegraph article for more information.
————————————————————————————————————————————-
Photo Printing Service
Any image that appears in the

"gallery"

can  be printed and supplied to local residents and others by arrangement. Proceeds to St. Peter's Church.  Contact Brian Ross direct with your orders, or e-mail the admin team using the

"Contact Us"

link.