WALK ALONG A PIECE OF HISTORY : NEW WALKING BOOK HITS THE MARKET IN TIME FOR CHRISTMAS !
Local resident Dave Singleton, together with his long-time friend Brian Bethune, have just published an exiting new walking guide entitled "12 Circular Walks around the Cromford and High Peak Railway".
The walks, which range from 3 to 9 miles in length, start at strategic points along the route of the old railway and take in some of the most beautiful parts of the Peak District. Today, some of the old railway track bed exists as the High Peak Trail, but the book also goes "off piste" with its walks to create a book which is aimed at walkers and railway enthusiasts alike. The detailed walks are interleaved with the fascinating history of the C&HPR, which extended from Whaley Bridge to Cromford across the high limestone plateau of the White Peak. As well as original black and white photographs, colour photographs and narrative points of interest of our local industrial heritage are included to bring the walks to life.
Books are now available to purchase at various bookshops and information centres in the area including :
Ashbourne Visitor Information Centre, Brierlow Bar Bookstore, Scriveners Books of Buxton, Cromford Mills, Footsteps of Whaley Bridge and Peak District National Park Information Centres.
Alternatively, you can always email Dave Singleton on savedingle@btinternet.com.
St. Peter's Church
For details of November & December services please click here
Triple Top Finish for Gargoyles
Played 14, won 8, drawn 1 and lost 5. In one of the most weather-disrupted summers in memory, Alstonefield Cricket Club somehow managed fourteen fixtures in 2016 and achieved their best ever win ratio. To do so, while giving every player the opportunity to shine with bat and ball in every match, is a tribute to the cricketing brain and thoughtful leadership of Andy Bray in his first season as club captain.
In many ways, the final three matches typified the season, with different players making match winning batting contributions each week.
 World's Biggest Coffee Morning
Friday 30th September –   for Macmillan Cancer Support.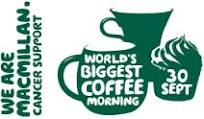 Many thanks to everyone who helped with the Coffee Morning in Alstonefield.  A great turnout and your generosity is much appreciated. Together we raised the magificent sum of £620.82
New Benefice Minister
The Reverend Prebendary Lawrence Robert Price was licensed as Interim Minister for the Alstonefield Benefice at a special service held at St Lawrence, Warslow on 8th September.
Village Hall – What's on in 2016 :-
15th Oct – Phillip Henry and Hannah Martin.
19th Nov – John Tams & Barry Coope.  SOLD OUT
23rd Nov – Guy Davis & Brooks Williams in concert.
Further details are available HERE.
Our Facebook page also has details of our plans for 2017.
GARGOYLES HAVE GROUNDS FOR OPTIMISM
After the club's tenth anniversary celebrations, came two tough away matches at Oakamoor and Chatsworth. These two fixtures epitomise the progress Alstonefield CC has made. Both take place in stunning surroundings, on superb cricket grounds. Oakamoor, the site of Thomas Bolton's copper works and mass employment and Chatsworth, an estate seemingly far removed from the heat of industrialisation. Both clubs date back to the mid 19th century and take their cricket seriously. Recent history suggested  two close games. And they were…….
Manifold Show 2016
Record numbers attend the Manifold Show on Saturday 13th August.   Diary date for next year's show – Saturday 12th August 2017
Gargoyles at Ten – Down to Earth but Ageing well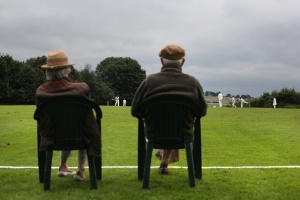 If character really is built on treating both triumph and disaster as imposters, then Alstonefield Cricket Club has matured beyond recognition. Celebrating their tenth anniversary with a double header against Brailsford CC and after five successive victories, the Gargoyles were dumped unceremoniously on both occasions. Brailsford are the only opponents the Gargoyles have yet to beat and they were not in party mood.
 to read more and see images of the ten year anniversary match, click here …..
St Peter's Church
Annual Report & accounts can be found here
Fond Farewell to Parish Council Chair
The Parish Council wishes to give a big thank-you to Dot Griffin for her work as Chair over the past 6 years. After over 8 years serving as a member of the Council, Dot has decided to move on for personal reasons. Pictured here with Vice-Chair, Noel Peat at farewell celebrations, Dot will be very much missed by us all.  Thank you Dot!
 Alstonefield Local History Group
The Alstonefield Local History Group are looking for any photographs, videos, memories and any artefacts to collate and preserve.  This will ensure that the past of the village is not lost for the future.
If you have anything that you think would be of interest  to the group and are able to scan it yourself, please do so and e-mail it direct to submissions@alstonefieldhg.org.uk. All items should be fully labelled, including who, what, where and when.  If you do not have the facility to scan items yourself, then please contact Susan Wilding on 310025 w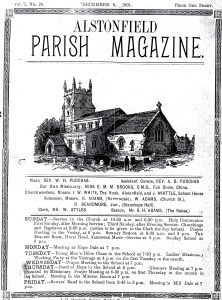 ho will arrange for the items to be scanned on your behalf.
We are particularly interested in obtaining originals or copies of the original Parish magazine.  This was first published in 1900.  If anyone has any copies hidden in the attic or cellar, please let us know.  It would be great to obtain a full set.
Superfast Broadband  has arrived in Alstonefield! – 17th December 2015
Superfast broadband (fibre) is now available in Alstonefield – for speeds up to 38 MbpS!   Please contact your Internet Service Provider to place an order – obviously individual packages/costs will vary.Those that don't have any need for Superfast broadband may be interested to know that you should be able to ask your ISP to convert you to the '21st century network' (copper network) at the exchange to achieve speeds of up to 19 MbpS, without additional charge. There have been some reports of 'automatic upgrades' to this service, so check with your ISP. To check your broadband speed, go to http://speedtest.btwholesale.com/.
Moorlands Connect Bus Service
Since the beginning of October 2015 there has been a regular timetabled bus service to and from Alstonefield. There is no need to book. Buses will leave the Memorial Hall for Ashbourne on Tuesdays and Thursdays and for Buxton on Fridays. For more information, or to book your Dial a Ride service, please telephone 01335342951 8am to 5pm Monday to Friday.
Community Speed Watch
Alstonefield has a Speed Watch Group. It has been set up to try to deal with the speeding problem on the Rakes.
So that everyone can understand what it is about there is now a page devoted to it with a link under 'VILLAGE GENERAL' on the right of this page, and here.
Derbyshire Life 'Perfect Peakland Alstonefield' – June 2014
For those who didn't see the Derbyshire Life magazine article on Alstonefield in the June 2014 issue, click  'Perfect Peakland Alstonefield