ALSTONEFIELD CRICKET CLUB CONTINUES ITS UNABATED RUN OF SUCCESS WITH 9th CONSECUTIVE WIN (AGAINST ABBOTS BROMLEY)
GARGOYLES HAVE DEPTH
Thirty minutes into this absorbing match, the thought of unbeaten runs looked as distant a memory as Dave Singleton in whites. Indeed, any sort of run would have been welcome. 17 for 4, nearly 10 overs gone and one of the best bowlers ever to do damage in Alstonefield, still had 3 overs up his sleeve. On a glorious afternoon, Abbots Bromley had come to make a day of it and winning was clearly going to be at the heart of their fun. No youth development players for this one, they fielded a side full of current Derbyshire league experience, including a wicket keeper who stands up to a genuinely fast bowler and takes every ball cleanly. It doesn't take long to spot the signs of a tough match to come.
Wakes Weekend
The weather stayed fair (but a bit chilly!) for this year's Wakes Weekend, culminating in the outdoor Sunday Service on 25 June, with Warslow Brass Band in attendance.
Village events – what's coming up
Saturday 29 July – Jon Allen (support: Lesley Pike) – SOLD OUT (call for cancellations 01335 310322).PLEASE NOTE The Box & Hounds will be selling their wood-fire pizzas in the village this evening (all welcome).
Saturday 19 August – The Haley Sisters – buy tickets
Saturday 30 September – CHARITY CONCERT in aid of the Lisieux Trust – with Tom McConville + Martyn Wyndham-Read  Tickets, including food, are £12 – call 01335 310322 or email hopedalemusic@btinternet.com
Full details of these and events later in the year are available here. Our latest News Release is available here.
GARGOYLES WINNING HABIT IS CATCHING
New opponents, big changes in the batting order and the weather, could not deter Alstonefield CC from recording their sixth consecutive win of the season.
Duffield CC were first time visitors to the hills, fielding a team of well coached youth led by some seasoned league veterans. Given the difference in average ages of the two teams, they would have been as amazed as the hosts themselves by the sheer audacity of the Gargoyles' catching. In this record breaking start to the season, the one facet of their game yet to reach the heights had been the ability to hold on to catches at crucial moments. On Sunday, 7 of the 9 Duffield wickets to fall were catches and some were far from regulation…

A wonderful setting at Alstonefield for the first ever game against Duffield. A lot of hard work during the week paid dividends, with the ground looking stunning …
SPOTTED FLYCATCHERS
Pictured below a  pair of spotted flycatchers, on feeding duty at a nest site in Milldale.                  These small birds ( only 6″ long)  are summer visitors from  central Africa and are the last to arrive here (latter part of May) and first to depart (end of August).  During the last 25 years numbers have declined in the UK by 50%, so consider yourself lucky if you happen to see one…
Alstonefield Parish Spring Clean
Thank you to everyone who helped with the Parish Spring Clean on 18th March.  We achieved a tremendous amount between us in a relatively short space of time,  and enjoyed a very communal lunch afterwards.
Alstonefield Local History Group
The History Group was re-established last year and has now produced a constitution. With funding from Staffordshire County Council Community Fund, we've also been able to purchase a fireproof cabinet to keep any locally-held contributions safe.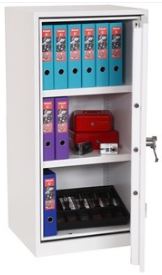 We are always pleased to receive any items for potential loan or deposit; or documents that could be copied/scanned and preserved in a digital format. If you have anything that you think would be of interest  to the group and are able to scan it yourself, please do so and e-mail it direct to submissions@alstonefieldhg.org.uk. All items should be fully labelled, including who, what, where and when. If you do not have the facility to scan items yourself, then please contact Gordon Campbell on 07919 353 800, who will arrange for the items to be scanned on your behalf. Please note we own a dedicated scanner that can scan from above a variety of documents up to A3 size, so there is no risk of damaging the spine of books etc. during the process.
If you'd be interested in joining the Group, just make contact on 01335 310121 or come along to one of our meetings in the hall, which normally take place on the second Wednesday of the month – we'd love to see you! For more information on our work, visit the Local History Group page.
New Year's Market
The sixth New Year Indoor Market was held in Alstonefield Village Hall on Saturday 7th January from 10am until 2pm. The weather was kind, and there was an excellent attendance from all around Derbyshire and Staffordshire Moorlandsm thanks to the publicity by local press, radio and on Facebook.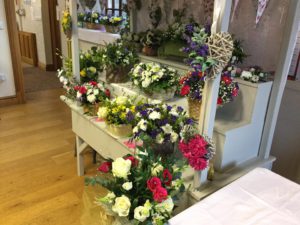 There were many different stalls, including Notty Hornblower's period fashion costumes and accessories; bric-a -brac; craft dolls; handmade wooden pens and pencils; a beautiful dolls house; homemade jams, preserves and chutney; books galore; cards of local scenes painted by Alstonefield artist, Jean Goodwin; an Aloe Vera stall; and an attractive flower-barrow laden with beautiful arrangements. Homemade hot refreshments  were served from the kitchen.
Visitors were delighted to be entertained during the market while enjoying their drinks and soup by the Manifold Trio; flute, clarinet and bassoon, led by Cathy Reavy. There was a lovely festive atmosphere created in the hall by their lively music.
2016…
Alstonefield celebrates 30 Years of Carol Suppers with Dorothy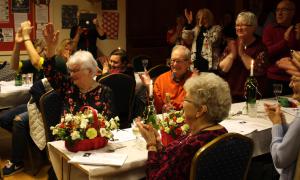 The end of an era was celebrated in splendid style in the Village Hall, marking Dorothy Critchlow's final year of organising Carol Suppers in aid of Cancer Research.  Many tributes were paid and floral presentations  were made to Dorothy by a representative of Cancer Research UK and also by the Clockwinders, who have performed at the Carol Suppers over the past 10 years. The photograph shows Dorothy and Doris applauding another memorable performance by the Clockwinders. Thank you to everyone who has helped in organising these suppers.
 World's Biggest Coffee Morning – for Macmillan Cancer Support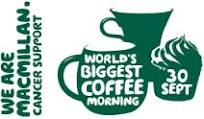 Many thanks to everyone who helped with the Coffee Morning in September.  A great turnout and your generosity is much appreciated. Together we raised the magnificent sum of £620.82
  Fond Farewell to Parish Council Chair
The Parish Council wishes to give a big thank-you to Dot Griffin for her work as Chair over the past 6 years. After over 8 years serving as a member of the Council, Dot has decided to move on for personal reasons. Pictured here with Vice-Chair, Noel Peat at farewell celebrations, Dot will be very much missed by us all.  Thank you Dot!
2015…
Superfast Broadband  has arrived in Alstonefield!
From December 2015, Superfast broadband (fibre) became available in Alstonefield – for speeds up to 38 MbpS!   Please contact your Internet Service Provider to place an order – obviously individual packages/costs will vary.Those that don't have any need for Superfast broadband may be interested to know that you should be able to ask your ISP to convert you to the '21st century network' (copper network) at the exchange to achieve speeds of up to 19 MbpS, without additional charge. There have been some reports of 'automatic upgrades' to this service, so check with your ISP. To check your broadband speed, go to http://speedtest.btwholesale.com/.
Moorlands Connect Bus Service
Since the beginning of October 2015 there has been a regular timetabled bus service to and from Alstonefield. There is no need to book. Buses will leave the Memorial Hall for Ashbourne on Tuesdays and Thursdays and for Buxton on Fridays. For more information, or to book your Dial a Ride service, please telephone 01335342951 8am to 5pm Monday to Friday.
Community Speed Watch
Alstonefield has a Speed Watch Group. It has been set up to try to deal with the speeding problem on the Rakes.
So that everyone can understand what it is about there is now a page devoted to it with a link under 'VILLAGE GENERAL' on the right of this page, and here.
Derbyshire Life 'Perfect Peakland Alstonefield' – June 2014
For those who didn't see the Derbyshire Life magazine article on Alstonefield in the June 2014 issue, click  'Perfect Peakland Alstonefield