Manifold Show 2016
Record numbers attend the Manifold Show on Saturday 13th August.   Diary date for next year's show – Saturday 12th August 2017
Gargoyles at Ten – Down to Earth but Ageing well

If character really is built on treating both triumph and disaster as imposters, then Alstonefield Cricket Club has matured beyond recognition. Celebrating their tenth anniversary with a double header against Brailsford CC and after five successive victories, the Gargoyles were dumped unceremoniously on both occasions. Brailsford are the only opponents the Gargoyles have yet to beat and they were not in party mood.
to read more and see images of the ten year anniversary match, click here …..
Interim Minister for Alstonefield Benefice click here for details
Alstonefield Educational Trust
Are you a young person or do you know a young person, under the age of 25, who is currently undertaking some form of learning?  Well, the trustees of the Alstonefield Educational Charity are interested in receiving applications for grants to assist in the education of children and young people, under the age of 25 and resident in the parish of Alstonefield or its neighbourhood.
Grants are not restricted to young people in further or higher education but are available to all children and young people for educational purposes where a need for some financial support can be shown – for instance: extracurricular, leisure or out of school activities.  Grants are also available for organisations or groups involved in sponsoring educational activities for our children or young people.
Each application will be considered by the Trustees at their meeting in October 2016 and grants awarded at their discretion.
Applicants in Year 7 and above are required to complete an application form, which is available available here.   Applicants below year 7 or groups should submit their application in letter, giving details of what the grant is required for and how it would be of benefit to the individual or group.
Please forward all applications to Susan Wilding, Chapel Cottage, Alstonefield, Ashbourne, DE6 2FY, to arrive no later than 30 September 2016
Village Hall – 20th August.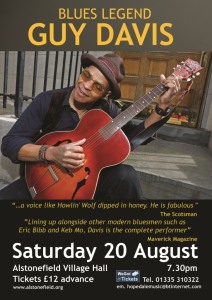 What others say…
"Talent and charisma…Davis performs with authority." New York Times
"Over the last half a dozen years or so the albums of Guy Davis have been a constant source of inspiration and wonderment. Lining up alongside other modern bluesmen such as Eric Bibb and Keb Mo, Davis is the complete performer… if you get the chance, go and see him." Maverick
Whether Guy Davis is appearing in front of 15,000 people on the main stage of a major festival or teaching an intimate gathering of students he feels the instinctive desire to give each listener his 'all'. His 'all' is the Blues. Throughout his career, he has dedicated himself to reviving the traditions of acoustic blues and bringing them to as many ears as possible through the material of the great blues masters, African American stories, and his own original songs, stories and performance pieces.
As well as being a musician, Guy Davis is a composer, actor, director, and writer. Early acting roles included a lead role in the film Beat Street and on television as Dr. Josh Hall on One Life to Live. He made his Broadway musical debut in 1991 in Mulebone, which featured the music of Taj Mahal. In 1993 he performed on Broadway as legendary blues player Robert Johnson in Trick the Devil. He received rave reviews and later won the Blues Foundation's Keeping the Blues Alive Award, presented to him by Robert Cray at the W.C. Handy Blues Awards ceremony.
Guy's influences include such great blues musicians as Blind Willie McTell, Skip J Manse Lipscomb, Mississippi John Hurt, Elizabeth Cotton, and Buddy Guy, among others. It was through Taj Mahal that he found his way to the old time blues.
The event is part of Alstonefield's new 'In Concert' series, offering a range of contemporary music genres (folk, blues, Americana, singer-songwriters, etc.).
GARGOYLES DEVELOP WINNING HABIT
 The sun may have disappeared in the past few weeks, but Alstonefield Cricket Club has been shining brightly. Two more good wins, at home to Tideswell CC and away at Youlgreave Lodge CC, leave the club on track for another successful season. Again, it has been the contributions from all players that have made the difference.
St Peter's Church
Annual Report & accounts can be found here
Fond Farewell to Parish Council Chair
The Parish Council wishes to give a big thank-you to Dot Griffin for her work as Chair over the past 6 years. After over 8 years serving as a member of the Council, Dot has decided to move on for personal reasons. Pictured here with Vice-Chair, Noel Peat at farewell celebrations, Dot will be very much missed by us all.  Thank you Dot!
 Alstonefield Local History Group
The Alstonefield Local History Group are looking for any photographs, videos, memories and any artefacts to collate and preserve.  This will ensure that the past of the village is not lost for the future.
If you have anything that you think would be of interest  to the group and are able to scan it yourself, please do so and e-mail it direct to submissions@alstonefieldhg.org.uk. All items should be fully labelled, including who, what, where and when.  If you do not have the facility to scan items yourself, then please contact Susan Wilding on 310025 w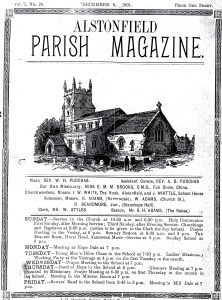 ho will arrange for the items to be scanned on your behalf.
We are particularly interested in obtaining originals or copies of the original Parish magazine.  This was first published in 1900.  If anyone has any copies hidden in the attic or cellar, please let us know.  It would be great to obtain a full set.
Superfast Broadband  has arrived in Alstonefield! – 17th December 2015
Superfast broadband (fibre) is now available in Alstonefield – for speeds up to 38 MbpS!   Please contact your Internet Service Provider to place an order – obviously individual packages/costs will vary.Those that don't have any need for Superfast broadband may be interested to know that you should be able to ask your ISP to convert you to the '21st century network' (copper network) at the exchange to achieve speeds of up to 19 MbpS, without additional charge. There have been some reports of 'automatic upgrades' to this service, so check with your ISP. To check your broadband speed, go to http://speedtest.btwholesale.com/.
Moorlands Connect Bus Service
Since the beginning of October 2015 there has been a regular timetabled bus service to and from Alstonefield. There is no need to book. Buses will leave the Memorial Hall for Ashbourne on Tuesdays and Thursdays and for Buxton on Fridays. For more information, or to book your Dial a Ride service, please telephone 01335342951 8am to 5pm Monday to Friday.
Community Speed Watch
Alstonefield has a Speed Watch Group. It has been set up to try to deal with the speeding problem on the Rakes.
So that everyone can understand what it is about there is now a page devoted to it with a link under 'VILLAGE GENERAL' on the right of this page, and here.
Derbyshire Life 'Perfect Peakland Alstonefield' – June 2014
For those who didn't see the Derbyshire Life magazine article on Alstonefield in the June 2014 issue, click  'Perfect Peakland Alstonefield