Superfast Broadband Update 1st December 2015
The Superfast Broadband have just e-mailed to say:
"We confirm that the cabinet will be going live in the next week or two. Works are complete and we believe it is in the process of being updated on databases and being released to service providers. We will probably be announcing this cabinet in the next week or so"
So keep an eye out on their website – http://www.superfaststaffordshire.co.uk/ and we will post further updates here.   Those that don't have any need for Superfast broadband – fibre network (which is likely to be a service that incurs an additional charge), may be interested to know that you should be able to ask your ISP to convert you to the '21st century network' (copper network) at the exchange to achieve speeds of up to 19 MbpS  (as opposed to the 6-8 MbpS we are achieving now if we are lucky!)  Please contact Cathy Reavy on 310125 for more information (Cathy has speeds of 18-19 MbpS now, having gone through this process!).
December & Christmas Services at St Peter's
For details of services in December please click here
New Year's Market
Will be held in Alstonefield Village Hall On Saturday January 9th 2016, 10am – 2.00pm
Stalls selling all kinds of goods, including vintage clothes, antique objet d'art, memorabilia, craft, bric-a-brac, home made cakes, books, tombola and many more attractions.
 The Manifold Trio will there to play for you.
 Refreshments will be served from the kitchen,in aid of the village hall refurbishment fund.
Entrance: only £1.00 & children free
Anyone who wishes to run their own stall,please contact Margaret on 01335 310381
email: margaret@alstonefield.com as soon as possible
(On the same day, The Birdscarers will be appearing in concert at 7.30 pm (doors 7pm). Full details here)
Alstonefield Local History Group
On Friday 13th November a packed Village Hall enjoyed another fantastic slide show and talk by 'Dot' and 'Dot' about the history and people of Alstonefield.  Interest has been expressed in restarting the Alstonefield Local History Group.  However, it is not known who is interested or what the objectives of a new group would be.  Whilst I (Susan) am happy to start things off, a full committee of people would be required to run such a group.  I have therefore devised a questionnaire to help understand what is sought and who is happy to be involved.
The questionnaire is available here.  Anyone interested, please complete a questionnaire and return it to Susan Wilding at Chapel Cottage or 64susan@gmail.com by 30 November.
New Moorlands Connect Bus Service
Since the beginning of October there is a regular timetabled bus service to and from Alstonefield. There is no need to book. Buses will leave the Memorial Hall for Ashbourne on Tuesdays and Thursdays and for Buxton on Fridays. For more information, or to book your Dial a Ride service, please telephone 01335342951 8am to 5pm Monday to Friday.
 Jon Allen Concert –  October 17th

Read a review of this concert
HERE
Harvest 2015
For more details of the Harvest service and Harvest  supper please click here
Worlds Biggest Coffee Morning – Friday 25th September
Thank you to everyone who worked so hard to make the Coffee Morning in Alstonefield such a great success. We raised a grand total of £888.25!  Full breakdown and information by clicking here 
Lost at The Folk Gathering.
Bunch of keys. Digital camera. If found please contact Dave or Val. Tel 310322
Perfect Finale as Gargoyles Chase Game Hunters Away
It's a big responsibility hosting a touring side whose expressed desire is simply to play cricket in the most beautiful settings imaginable, especially when they play in the stately surroundings of Chatsworth the day before.
What transpired on the most glorious Sunday afternoon of the summer, was the complete embodiment of village cricket and a timely reminder to all involved of why the game is played. In the last match of what has been one of their most successful seasons, this encounter also demonstrated just how far Alstonefield Cricket Club has developed, in both cricketing ability and ground facilities. The club was honoured to have Councillor Gill Heath in attendance to formally open the new marquee changing rooms, generously supported by the Staffordshire County Council Local Community Fund. To defeat the Hampshire based White Hunters and their eccentricities, in particular their 'Not Out First Ball' rule, while making them feel most welcome and wanting more, is of course the balancing trick for all hosts.
This time, the Gargoyles were pitch perfect …
 Gargoyles go to Town and make Hay
A successful couple of weeks for Alstonefield CC, notching up their first ever win against Clifton CC, albeit by only 1 run and then following up with a  1 wicket victory over Ashbourne. That leaves the tally for the season at 7 wins, 1 draw and 5 defeats with 2 matches to play. Even more impressive have been the performances of the less experienced players called upon to bat and bowl during the holiday season, while the more seasoned performers sought a summer elsewhere…
Community Speed Watch
Alstonefield has a Speed Watch Group. It has been set up to try to deal with the speeding problem on the Rakes.
So that everyone can understand what it is about there is now a page devoted to it with a link under 'VILLAGE GENERAL' on the right of this page, and here.
The Village 'sweet pea' Wedding click here
The Manifold Valley Agricultural Show – Saturday 8th August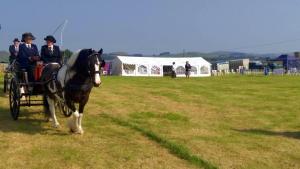 Beautiful sunny day for this year's Show. Fantastic entries from the children this year in the Handicraft's tent.
 Wakes 2015
Please click here
2015 Leaden Boot Challenge Report
An outstanding success!
This year the weather was kind, enabling more entrants to finish and most to better their previous years' times. The fastest was Andrew Hunter in a time of 4 hrs 25mins. Nick Pope of Butterton was first local home in 5 hrs 3 mins, but special mention goes to Peter Linley of Astonefield, just 15, who finished in 5 hrs 8 mins, raising nearly £700 for Cancer Research. First local lady home was Charlie Mollatt, also of Butterton in 6 hrs 54 mins.
But it needed 50 villagers from Alstonefield and surrounding villages to help make it such a success. So, whoever you are, and whatever you did to help so many people do so well, the Leaden Boot Committee would like to extend a massive THANK YOU!   It is directly due to you and your help, that we received such positive feedback: "we were made to feel safe and valued,'" and "brilliant, friendly, well organised". And as to the food: "outstanding pies and cakes"
Thanks also go to the farmers, land-owners and National Trust who helped ensure that it is indeed  "a great event with stunning scenery". And we can all agree with one runner who commented "It seemed like all of Alstonefield and beyond had come together to make it a really special event. Please keep it going for the future."
And the best news of all?   This year, we gave over £4,700, to Alstonefield Village Hall, St Peter's Church, Wetton Village Hall, Alstonefield Cricket Club, Wetton & Alstonefield Community First Responders and Alstonefield & District Friendship Club. Cheques will be handed out by the Chair, Noel Peat at the Wakes Service.
With grateful thanks to our sponsors:

As many entrants have asked when they can sign up for next year, please, please put the date in your diary: Sunday, 22nd May 2016. We simply could not put on such a great event without you!
5th Leaden Boot Challenge – Sunday 17th May
292 runners and walkers started the annual 26 mile challenge from Alstonefield Village Hall on a cloudy but dry day. Andrew Hunter arrived home first in a near record breaking time of 4 hours and 25 minutes, shortly followed by Stephen Cotterill at 4 hours 27 and Kruger Fitch at 4 hours 42. Running in aid of Cancer Research, local lad, Peter Linley (age 15) achieved a fantastic time of 5 hours and 8 minutes. The first lady home was Elen Rees of 'Simply Walk' with a time of 5 hours and 31.  Click here to see more photos in the gallery. Well done everyone!
A Full Peal of the church bells welcomed the leaden booters home…more details here
Leaden Boot Test Walk
Carrie, Meg & Cathy have test walked the Leaden Boot route over Tuesday/Wednesday 12th/13th May.  Routes have been cleared, instructions checked and mobile signals verified. All set to go on Sunday! View the photos in the gallery here
Mary celebrates 58 years at Christian Aid
Mary Jephcott's work as local organiser for Christian Aid week since its inception in 1957 was recognised on Monday 11th May when she was presented with a Certificate for her achievements by Becky Hurst, CA Regional Organiser, in the company of friends at the Village Hall. Well done Mary!
Fordante -from Strauss to the Movies, see concert review here
New Sunday service pattern at St Peter's from May 2015
For more details please click here
Wetton & Alstonefield Community First Responders
Celebrate 15 years serving our rural communites with care, pride and excellence. More details here
Alstonefield Walking Group Visits the Birchen & Baslow Edges
 Alstonefield Remembers its Soldiers
Since 2011 records detailing the lives of the servicemen of the village and surrounding area who died in the two World Wars have been contained in the Alstonefield Remembrance Book.
To commemorate the centenary of the start of World War 1, the book has been updated and expanded following  further research particularly of local records.  The research to date has provided a more extensive record of the lives of each man from or with an association to the village and includes photographs, local newspaper cuttings, army records and census returns.  We appreciate the considerable amount work undertaken by Susan Wilding on this project.
The book is available for all to read in St Peter's church or on the Alstonefield Remembrance Book page, where each soldier's record can be accessed.
Lance Corporal Sydney Gilman, killed in action March 1918 and awarded the Military Medal
And the clock chimed…
The Church Tower restoration has been completed click here to see the update.
Derbyshire Life 'Perfect Peakland Alstonefield' – June 2014
For those who didn't see the Derbyshire Life magazine article on Alstonefield in the June issue, click  'Perfect Peakland Alstonefield