Welcome to our Community Website
King Returns from Exile to Inspire Gargoyles
Another spine tingling finish between two evenly matched teams. This time Alstonefield CC came out on top, to defeat Sunseekers by 5 wickets, after another strong all round performance. The match started at a frenzied pace, with Sunseekers' captain Taylor chancing his arm from the off, being rewarded with a succession of boundaries. The Gargoyles' opening bowlers were struggling to keep the rate below 6 an over…
Play area upgrade now complete
The Parish Council are pleased to announce that the new swings are now in place along with some other slight upgrades and that the play area is now complete – just in time for the glorious weather expected this week!
What more can the Gargoyles do?
After one of their best bowling and catching performances ever in dismissing a powerful Sutton-on-the-Hill CC for a meagre 125 runs, Alstonefield CC somehow managed to make a mess of the run chase and lost yet another close encounter, this time by 14 runs.
Alstonefield Educational Trust
 The trustees of the Charity are interested in receiving applications for grants to assist in the education of children and young people, under the age of 25, resident in the parish of Alstonefield or it's neighbourhood.
Grants are not restricted just to those in further education but are available to all children and young people for educational purposes where a need for some financial support can be shown – for instance: extra-curricular, leisure or out of school activities.  Grants are also available for organistations or groups involved in sponsoring educational activities for children or young people.
Each application will be considered by the Trustees at their meeting in October and grants awarded at their discretion.
Applicants  in Year 7 and above are required to complete an application form, available here.  Applicants in Year 6 or below and groups should submit their application by letter, giving full details, including how the grant would be of benefit.
Please forward all applications to Susan Wilding, Chapel Cottage, Alstonefield, Ashbourne, DE6 2FY, to arrive no later than 30 September 2014.
Alstonefield Post Office
Proposed change of service – Local Public Consultation
The Post Office is proposing to change the hours of opening at Alstonfield Post Office.  They are carrying out a local public consultation on the new service and would like to have our views before 16 September.  There is a leaflet available in the Post Office with more information.
Currently the opening time is 13.00 to 16.30 on Mondays.  The proposed opening times are 13.00 to 16.00 on Mondays and 12.00 to 14.00 on Thursdays.
If you would like to comment you can email comments@postoffice.co.uk, telephone 08457223344, textphone 08457223355 or just write "FREEPOST – Your Comments" on your envelope and post it.  Please note that items sent by FREEPOST take a couple of days to arrive.
And the clock chimed…
The Church Tower restoration has been completed click here to see the update.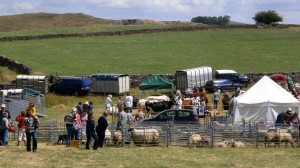 A lovely day and a great turnout at the Manifold Show!  As usual there were lots of Alstonefield entries in the Handicrafts classes (too numerous to mention!)  but  first prizes included Noel Peat for his '2 kinds of vegetables'  display,  Jean Allen for her 'Afternoon Tea'  tray and young Edie Hambleton for her character made of liquorice allsorts (pictured).  Cathy Reavy won the 'Brian Ross Memorial Trophy' for her photography in the 'Weather' class.  Click here for more.
Manifold Show photos are now available on the Alstonefield website Gallery.
If you have any photos of the day you wish to share with the community, please contact Dave Singleton by email  :  savedingle@btinternet.com to arrange ……
Alstonefield Remembers its Soldiers

Since 2011 records detailing the lives of the servicemen of the village and surrounding area who died in the two World Wars have been contained in the Alstonefield Remembrance Book.
To commemorate the centenary of the start of World War 1, the book has been updated and expanded following  further research particularly of local records.  The research to date has provided a more extensive record of the lives of each man from or with an association to the village and includes photographs, local newspaper cuttings, army records and census returns.  We appreciate the considerable amount work undertaken by Susan Wilding on this project.
The book is available for all to read in St Peter's church or on the Alstonefield Remembrance Book page, where each soldier's records can be accessed.
Leaden Boot Presentation at Wakes
On behalf of the 2014 Leaden Boot, Noel Peat presented cheques to the Village Hall, St. Peter's Church, First Responders & Wetton Village Hall prior to the start of our traditional Wakes Service with Warslow Silver Band on the George Green on Sunday 29th June.
Derbyshire Life 'Perfect Peakland Alstonefield' – June 2014
For those who didn't see the Derbyshire Life magazine article on Alstonefield in the June issue, click  'Perfect Peakland Alstonefield
Dovedale fete raises thousands of pounds for good causes
A VILLAGE fete, held in the picturesque village of Ilam, in which several children of Alstonefield go to school at Ilam. Has raised thousands of pounds for good causes.
Early estimates show that the event – jointly organised by Dovedale House and Ilam Primary School – has raised approximately £4,000, which will be split equally between both institutions. Read more.


Wedding Dress Outing in Alstonefield
Having decided that their wedding dresses needed an 'outing', friends gathered on Friday 30th May in the gardens of Alstonefield Manor.  There were a few surprised faces as they walked through the village!
Leaden Boot completes its 4th Successful Year
            
Start in Alstonefield                                                                   Milldale
David Harrison  completed the 4th Leaden Boot in a fantastic 4 hours and 43 minutes.  Almost 300 walkers and runners left Alstonefield Village Hall on a hot Sunday 18th May in the 4th annual Leaden Boot event.   The participants arrived in Alstonefield early on Sunday morning from all over the country,  as well as from the USA and the Netherlands. The last walkers completed the route well before the cut-off time, in 11 hours 30 minutes. Well done and thanks to everyone who has helped to make this another successful event.  To view more photographs, click here.
To view the  2014 results, click here
Post Office Pat leaves Alstonefield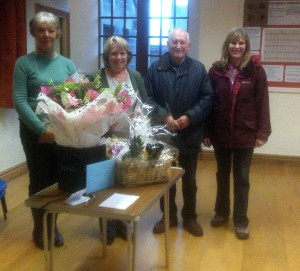 After many years managing our Post Office, Pat retired on Thursday 20th March, receiving a surprise send-off from residents and members of the Village Hall Committee, Parish Council and P.C.C. After a speech from Jean Allen, thanking Pat for her support for the community,  presentations were made by all three village organisations.  Good luck Pat and thank you from us all.  The Post Office will continue on Monday afternoons for the time being,  1.00pm to 4.30 pm.
Play Area now Open
After being closed over the winter months, the village play area has received a new black rubber chippings surface after a Parish Council working party took advantage of the recent spring weather to move ahead with the work.   Any comments/reactions from children will be welcome!

Diving with a Loggerhead Turtle
Enjoy this fantastic photograph of Alstonefield parishioner, Paul Binfield,  diving with a Loggerhead Turtle in Northern Cyprus (click to enlarge)