Wetton and Alstonefield Community First Responders
Two of our responders were called to an incident in Dovedale this week, making full use of our 4×4 vehicle.  Thanks to Derby Mountain Rescue for the photo.
Christian Aid Week – St Peter's Church
Join us on 8th May for a Christian Aid late Sunday 'Big Brekkie'. For more details click here
ALSTONEFIELD – DOMESDAY 2000
Were you living in Alstonefield Parish on 1 January 2000?
Do you know who was living in your house on 1 January 2000?
Come to the Alstonefield Local History Group Exhibition being held over Wakes weekend 25/26 June in the Village Hall, where there will be a display of all the material from the Domesday 2000 project, including property descriptions, photos and most important, who the residents were.
You will have the opportunity to scan your village memorabilia, photos, documents etc. for future posterity.  In addition there will be many more activities for both adults and children. More information next month to follow.
So keep the date free to come and share the history of your village.
TENTH ANNIVERSARY SEASON FOR GARGOYLES
After its most successful season ever in 2015, Alstonefield Cricket Club is all set for the 2016 season. With a record 21 fixtures, this tenth anniversary year promises to be the busiest yet. The winter indoor nets sessions have been taken to a new level with the acquisition of the club's bowling machine and it is now time for competitive action, with the first match of the season away to Abbots Bromley on Sunday 24th April.
St Peter's Church
Annual Report & accounts can be found here
Fond Farewell to Parish Council Chair
The Parish Council wishes to give a big thank-you to Dot Griffin for her work as Chair over the past 6 years. After over 8 years serving as a member of the Council, Dot has decided to move on for personal reasons. Pictured here with Vice-Chair, Noel Peat at farewell celebrations, Dot will be very much missed by us all.  Thank you Dot!
Parish Clean-up (Saturday 19th March)
Thank you to the many people who joined us last Saturday. Litter picking, trimming vegetation, cleaning signs and benches etc  amongst the many tasks undertaken to help maintain the appearance of our delightful area.
 Alstonefield Local History Group
The Alstonefield Local History Group are looking for any photographs, videos, memories and any artefacts to collate and preserve.  This will ensure that the past of the village is not lost for the future.
If you have anything that you think would be of interest  to the group and are able to scan it yourself, please do so and e-mail it direct to submissions@alstonefieldhg.org.uk. All items should be fully labelled, including who, what, where and when.  If you do not have the facility to scan items yourself, then please contact Susan Wilding on 310025 w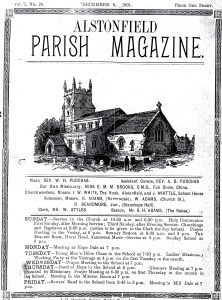 ho will arrange for the items to be scanned on your behalf.
We are particularly interested in obtaining originals or copies of the original Parish magazine.  This was first published in 1900.  If anyone has any copies hidden in the attic or cellar, please let us know.  It would be great to obtain a full set.
Superfast Broadband  has arrived in Alstonefield! – 17th December 2015
Superfast broadband (fibre) is now available in Alstonefield – for speeds up to 38 MbpS!   Please contact your Internet Service Provider to place an order – obviously individual packages/costs will vary.Those that don't have any need for Superfast broadband may be interested to know that you should be able to ask your ISP to convert you to the '21st century network' (copper network) at the exchange to achieve speeds of up to 19 MbpS, without additional charge. There have been some reports of 'automatic upgrades' to this service, so check with your ISP. To check your broadband speed, go to http://speedtest.btwholesale.com/.
Moorlands Connect Bus Service
Since the beginning of October 2015 there has been a regular timetabled bus service to and from Alstonefield. There is no need to book. Buses will leave the Memorial Hall for Ashbourne on Tuesdays and Thursdays and for Buxton on Fridays. For more information, or to book your Dial a Ride service, please telephone 01335342951 8am to 5pm Monday to Friday.
Perfect Finale as Gargoyles Chase Game Hunters Away
It's a big responsibility hosting a touring side whose expressed desire is simply to play cricket in the most beautiful settings imaginable, especially when they play in the stately surroundings of Chatsworth the day before.
What transpired on the most glorious Sunday afternoon of the summer, was the complete embodiment of village cricket and a timely reminder to all involved of why the game is played. In the last match of what has been one of their most successful seasons, this encounter also demonstrated just how far Alstonefield Cricket Club has developed, in both cricketing ability and ground facilities. The club was honoured to have Councillor Gill Heath in attendance to formally open the new marquee changing rooms, generously supported by the Staffordshire County Council Local Community Fund. To defeat the Hampshire based White Hunters and their eccentricities, in particular their 'Not Out First Ball' rule, while making them feel most welcome and wanting more, is of course the balancing trick for all hosts.
This time, the Gargoyles were pitch perfect …
Community Speed Watch
Alstonefield has a Speed Watch Group. It has been set up to try to deal with the speeding problem on the Rakes.
So that everyone can understand what it is about there is now a page devoted to it with a link under 'VILLAGE GENERAL' on the right of this page, and here.
Alstonefield Remembers its Soldiers
Since 2011 records detailing the lives of the servicemen of the village and surrounding area who died in the two World Wars have been contained in the Alstonefield Remembrance Book.
To commemorate the centenary of the start of World War 1, the book has been updated and expanded following  further research particularly of local records.  The research to date has provided a more extensive record of the lives of each man from or with an association to the village and includes photographs, local newspaper cuttings, army records and census returns.  We appreciate the considerable amount work undertaken by Susan Wilding on this project.
The book is available for all to read in St Peter's church or on the Alstonefield Remembrance Book page, where each soldier's record can be accessed.
Lance Corporal Sydney Gilman, killed in action March 1918 and awarded the Military Medal
And the clock chimed…
The Church Tower restoration has been completed click here to see the update.
Derbyshire Life 'Perfect Peakland Alstonefield' – June 2014
For those who didn't see the Derbyshire Life magazine article on Alstonefield in the June issue, click  'Perfect Peakland Alstonefield