Christmas & New Year in Alstonefield
Monday 22nd December – Carols by Candlelight at St. Peter's Church, 7 pm. Traditional Service of Nine Lessons & Carols. Join us afterwards for tea/coffee & mince pies.
Tuesday 23rd December – Carol Singing around the Village. Meet at the Village Hall at 6.30 pm. Bring warm clothing and a torch and enjoy this seasonal event. Contact Margaret on 310381.
Wednesday 24th December –    Christmas Eve service at 4 pm. at Milldale Methodist Chapel. and at 11.30 pm. join us for Holy Communion by Candlelight at St. Peter's Church. All welcome
Thursday 25th December  – Short Family Service at 10.30 am. at St. Peters Church. All welcome.
Saturday 3rd January – New Year's Market,  10.00 am. to 3.00 pm. in the Village Hall. Variety of stalls, including cakes, books, cards, vintage clothes, objets d'art, with the Manifold Trio to play for you. Entrance £1. Enquiries to Margaret on 310381
Alstonefield Walking Group Visits the Birchen & Baslow Edges
Fishpond Delights by Candlelight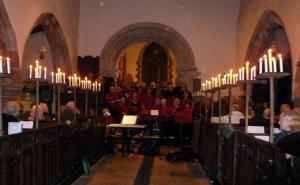 On Saturday 29th November, St. Peter's delighted in the return of the wonderful Fishpond Choir from Matlock, led by Director, Dana de Waal and accompanied by his wife, Anne.  Bathed in candlelight, with the large angel banners on display, the Church felt warm and welcoming, and the over 100-strong audience were treated to a repertoire of Christmas songs from around the world, including the Caribbean. The solo performances were spectacular, with a duet from Dana de Waal & Jo Brown in 'Angiol di Pace'  and featured our own Alan Barnard in 'A Winter Wonderland'.  
Anne de Waal and Jo Brown so stunned the audience with 'Silent Night', that an encore was demanded from the audience, as was one of 'God So Loved the World' composed by Anne and beautifully sung by Dana.  Thank you to the Choir and to everyone who organised the evening, that has prepared us so well for Christmas. A fantastic £840 was raised for St. Peter's Church.
Posthumous Award for Brian Ross
Brian's wife, Carrie and his daughter, Selina, collected an 'Outstanding Achievement Award for Excellence in the Community', awarded postumously to Brian on Thursday 6th November.  A photograph can be viewed by clicking here and the citation read as follows:
'Wetton & Alstonefield CFR Scheme were blessed by the presence of Brian Ross who spent many years responding to patients in and around his local area. Brian is greatly missed by all who knew him, particularly the members of WACRF who all have fond memories of a decent and upstanding member of their community. In recognition of his life and work, dedicated to his community and patient care, Brian's wife Carrie receives the award in memory of Brian for his outstanding contribution to the CFR scheme'
 Alstonefield Remembers its' Soldiers
Since 2011 records detailing the lives of the servicemen of the village and surrounding area who died in the two World Wars have been contained in the Alstonefield Remembrance Book.
To commemorate the centenary of the start of World War 1, the book has been updated and expanded following  further research particularly of local records.  The research to date has provided a more extensive record of the lives of each man from or with an association to the village and includes photographs, local newspaper cuttings, army records and census returns.  We appreciate the considerable amount work undertaken by Susan Wilding on this project.
The book is available for all to read in St Peter's church or on the Alstonefield Remembrance Book page, where each soldier's record can be accessed.

Lance Corporal Sydney Gilman, killed in action March 1918 and awarded the Military Medal
 Fitting Finale for Fine Season
This match perfectly summed up the Gargoyles' 2014 season. A beautiful summer's day, a fast and true wicket and two very good evenly matched teams, both full of wily experience and the exuberance of youth. The result too was a fair reflection of so many matches in this campaign, with Ian McKay's Chairman's Invitation XI narrowly edging past captain Simon Smith's Alstonefield Club XI by 3 wickets, with less than two overs to spare.
 Harvest Flowers
 And the clock chimed…
The Church Tower restoration has been completed click here to see the update.
Leaden Boot Presentation at Wakes
On behalf of the 2014 Leaden Boot, Noel Peat presented cheques to the Village Hall, St. Peter's Church, First Responders & Wetton Village Hall prior to the start of our traditional Wakes Service with Warslow Silver Band on the George Green on Sunday 29th June.
Derbyshire Life 'Perfect Peakland Alstonefield' – June 2014
For those who didn't see the Derbyshire Life magazine article on Alstonefield in the June issue, click  'Perfect Peakland Alstonefield
Leaden Boot completes its 4th Successful Year
            
Start in Alstonefield                                                                   Milldale
David Harrison  completed the 4th Leaden Boot in a fantastic 4 hours and 43 minutes.  Almost 300 walkers and runners left Alstonefield Village Hall on a hot Sunday 18th May in the 4th annual Leaden Boot event.   The participants arrived in Alstonefield early on Sunday morning from all over the country,  as well as from the USA and the Netherlands. The last walkers completed the route well before the cut-off time, in 11 hours 30 minutes. Well done and thanks to everyone who has helped to make this another successful event.  To view more photographs, click here.
To view the  2014 results, click here