Welcome to our Community website.
Best Kept Village
After an absence of several years Alstonefield has entered this year's Best Kept Village competition. The aim of the competition is 'to encourage community spirit and to stimulate pride in villages'. In the village there is an abundance of both of these qualities so we are sure we will all pull together to keep the village looking  'Best Kept' during the judging period from May 1st until June 22nd.  A panel of judges will visit the village unannounced once in May and once in June. Attention to detail is important and the judges will be expecting no litter, no dog fouling and no weeds in significant areas. If we are successful in the first round the judges will come again in July!
As part of the 'Best Kept Village' there is also a children's poster and poetry competition  with categories for 5-7 year old's and 8-11 year old's. For 12-16years old's there is an 'In Remembrance' competition commemorating the 100 year anniversary of the start of the Great War.This can involve a poem, painting, photograph or essay.  Closing date for all age group entries is May 31st. Entry forms are available from organiser Anne Morgan (310106) or from Jean Allen (310201).
The Leaden Boot Challenge 2014 is FULL
We  are once again fortunate to have hit our maximum entry of 300.  Entries are now closed.  For further info contact Noel Peat direct – 310000
Alstonefield village hall was packed on Saturday night for the final 'Live & Local' event of the season. The musical offering came from Baltic Crossing… (continues here)
Have Fun with Exercise in Alstonefield
Zumba on Fridays at 9.30 am – New class for beginners starts Friday 2nd May
Pilates on Tuesdays now at 8.00 pm……
Why not join our one hour Zumba and/or Pilates Classes in Alstonefield Village Hall during term time, run by fitness instructor, Tracy Taylor.   Fast moving Zumba takes place on Friday mornings at 9.30 am  and Pilates classes are on  Tuesdays at 8.00 pm. Pilates contact Claire (310047) or Liz (310060), Zumba contact Cathy (310025).  All are welcome, including complete beginners (note – new Zumba class for beginners starts Friday 2nd May).
First Responders' Success
We are pleased to report that Responders David Lovatt & Carrie Ross have passed their 'Enhanced' Responder Examinations.  This is a significant achievement and we are lucky to have such well trained and committed people as part of the Responder Team. Congratulations!
Incredible Indian Moments for Anthony Nolan – £750 raised
Superb narration from Rob Handscombe and nearly 200 amazing pictures from Brian Ross helped to make the "Incredible Indian Moments" evening a remarkable success.   Rob was able to entertain the 60+ audience for the whole evening – even losing his voice at the end – with amusing anecdotes and the past 500 years of India's colourful history.  At the interval, Carrie and Meg had prepared a selection of Indian Street food, including Masala Chai (Indian tea) – many request for recipes were taken.  click here to continue…..
Congratulations to Brian
Brian Ross was recently delighted to learn  that he has been awarded a  Gold medal in an international photography exhibition in Budapest, Hungary, the only British winner.  See his winning photograph, 'Dolphin Magic', by clicking here and scrolling down the page. The medal is awarded by the International Federation of Photographic Art and is a really superb achievement.
Post Office Pat leaves Alstonefield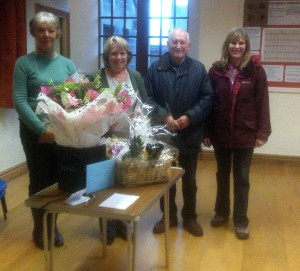 After many years managing our Post Office, Pat retired on Thursday 20th March, receiving a surprise send-off from residents and members of the Village Hall Committee, Parish Council and P.C.C. After a speech from Jean Allen, thanking Pat for her support for the community,  presentations were made by all three village organisations.  Good luck Pat and thank you from us all.  The Post Office will continue on Monday afternoons for the time being,  1.00pm to 4.30 pm.
Play Area now Open
After being closed over the winter months, the village play area has received a new black rubber chippings surface after a Parish Council working party took advantage of the recent spring weather to move ahead with the work.   Any comments/reactions from children will be welcome!

Diving with a Loggerhead Turtle
Enjoy this fantastic photograph of Alstonefield parishioner, Paul Binfield,  diving with a Loggerhead Turtle in Northern Cyprus (click to enlarge)