Welcome to our Community website.
 Brooks Williams in concert – Village Hall on 7th December
"How soulful a solo guitarist can be when he has talent, taste and astonishing technique." (Blues Revue)
"A slice of Americana at its finest!" (fRoots)
Tickets £10. Licensed bar available. Doors 7pm for 7.30 start (Finish by 10.30)
Box Office : 01335 310322 OR hopedalemusic@btinternet.com
More details here.
Carols by Candlelight – Tuesday 17th December, 6.30 pm.
Join us at St. Peter's Church for our traditional Service of Carols and Readings on Tuesday 17th December, when the Church will be lit with other 150 candles (see photo from the recent concert below).  After the service you are welcome to stay for tea, coffee & stollen.
On the evening of Saturday 30th November, St. Peter's Church was transformed by the light of over 150 candles and the lovely tones of the Ashbourne Singers led by Musical Director, Linda Perry Smith. Read the full review here……….
Village Hall Games Evenings
Friday 1st November marked the first of the Village Hall Games Evenings. The aim was to offer a monthly relaxed fun evening for all ages – and a wide range of ages were represented.  There was table tennis, darts, table football and snooker for the active and scrabble, draughts and other board games for those who felt they deserved a rest.  Tea and coffee were served but it was OK to bring your own drink if preferred.  Big thanks to Phillip and Fiona Goodyear for all the organisation, accumulation of games and running the evening.
All are welcome to come along and enjoy.  Normally the first Friday of every month, 7.30 to 9.30, Village Hall. Next two dates Friday 6th December, Friday 10th January
Diving with a Loggerhead Turtle
Enjoy this fantastic photograph of Alstonefield parishioner, Paul Binfield,  diving with a Loggerhead Turtle in Northern Cyprus (click to enlarge)
New Year's Market – Saturday 4th January 2014
The Annual New Year's Market takes place in the Village Hall between 10.00 am. and 3.00 pm. Stalls selling all kinds of goods including antique objets d'art, memorabilia, craft, bric-a-brac, cakes, tombola and many more attractions. The Manifold Trio will be there to play for you, and refreshments will be served from the kitchen, all in aid of the Alstonefield Village Hall Re-decoration Fund. If you want to organise a stall for yourself or your favourite charity, please contact Margaret on 310381.
Urban Folk Quartet in concert – 9th November (Village Hall)
Quote " Alstonefield Village Hall last night for the Urban Folk Quartet. Highly energetic musicianship. If they don't get you off your seat nobody will. Superb venue too. Intimate, pretty. It has it all!"
(Full review here.)
Harvest Festival 2013
After a lovely Harvest Service at Church on Sunday, we enjoyed the traditional supper on Monday night, with auction of produce.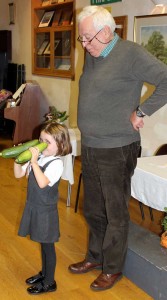 Young Ruby provided ongoing entertainment as one of Auctioneer Chris' assistants!  Thank you to everyone involved in the organisation of this event.
Pilates and Zumba Classes
Why not join our Zumba and/or Pilates Classes in Alstonefield Village Hall during term time, run by fitness instructor, Tracy Taylor.   Fast moving Zumba takes place on Friday mornings at 9.30 am (£5 per session, payable each term in advance), and Pilates classes are on  Tuesdays at 8.30 pm.  (£5 per session). Enquiries: – Pilates contact Claire (310047) or Liz (310060), Zumba contact Cathy (310025).  All are welcome!
Manifold Folk Gathering – Alstonefield.
An amazingly successful event in all respects. A full report is on the concert review page. Pictures of the event are in The Gallery.
For the  Ashbourne Telegraph report and more pictures CLICK HERE  and for Leek Post CLICK HERE
For pictures of the weekend, CLICK HERE
Plaque Un-veiled to Commemorate Peal in 1996
An official un-veiling of an important plaque took place on Wednesday evening.  The plaque commemorated the first and only full peal of bells ever to be rung in Alstonefield….. in 1996.  For historical reasons this peal was never recorded, even though a large, blank plaque had been hanging on the wall for years!   With the help and artistry of Chris Lucas this oversight was put right.  The plaque was un-veiled by Geoff Burton MBE of Stoke Minster, who was a key figure in the restoration of St Peter's Church bells in 1989.  Only 3 of the original peal ringers were able to attend – Fred Pearson (Grindon), Carol Frith (Alstonefield) and Ray Daw (Stoke).  They can be seen below the new plaque in the attached image.
Award for Hope House Costume Museum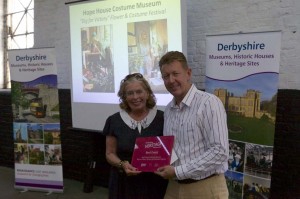 Hope House Museum has been awarded "Best Event" by the Derbyshire Museums Forum for last year's "Dig for Victory" at the 7th Annual Derbyshire Heritage Awards evening held in July this year at the Barrow Hill Roundhouse, near Chesterfield. Many thanks to all those involved in making the Flower & Costume Festival at St. Peter's Church such a success.  What a great team effort from a very productive village!! The photograph shows Notty Hornblower receiving the Award from David James, Chief Executive of Visit Peak District and Derbyshire.
Over £2000 raised with London Ride 100
Marie & Charlie McIlroy would like to say a massive thanks to everyone for their good wishes, support and sponsorship towards their London Ride 100 Challenge which they completed on Sunday 4th August. They were thrilled with their times –  Charlie, 5 hours, 20 minutes and Marie 6 hours and 9 minutes (- well a girl's got to stop for the toilet hasn't she!)
  All of your support was very warmly received – particularly the sponsorship for Click Sargent, the childrens cancer charity for which we've raised over £2000 so far with the help of all of you, and many other friends, family and colleagues.
Urgent appeal from the First Responders
Click on the image on the right for an important message from Wetton and Alstonefield Community First Responder group
Did you know that you can register as a donor online via the Anthony Nolan Trust?  You have to be aged 16-30, and once you've completed the form, you get sent a spit test in the post and that's it.  Click here for the application form.
Gallery Photo Albums
If you haven't looked recently, you will be surprised at the number of new photo albums we have in the Gallery.  The newest of these is for all local wildlife (flora and fauna), seen in the Alstonefield parish.  There is a photo album on the recent Leaden Boot Challenge and a new 2013 cricket album featuring our local team, the Gargoyles.  Now that the sun is shining again, now might be a good time to remind ourselves of the dreadful winter we had.  We have an amazing 159 pictures of snow, ice and other cold things!   PLEASE SEND US YOUR OWN IMAGES, particularly wildlife pictures.  To access the Gallery, click on the link at the top of this page.
Restoration Grants
Some home or business premises' improvements may qualify for a grant of up to £4000.  Click HERE to see the Ashbourne Telegraph article for more information.
————————————————————————————————————————————-
Photo Printing Service
Any image that appears in the

"gallery"

can  be printed and supplied to local residents and others by arrangement. Proceeds to St. Peter's Church.  Contact Brian Ross direct with your orders, or e-mail the admin team using the

"Contact Us"

link.