GARGOYLES READY TO GO AGAIN
After the most successful season in their history, players at Alstonefield Cricket Club have been hard at work over the winter to make sure the 2018 season is not an anti-climax. Throughout the winter, under the watchful gazes of club captain Andy Bray and Head of Player Performance Liam Duffy, skills have been honed in five gruelling indoor net sessions, featuring the club's PRO bowling machine.
The club is always looking to welcome new players of any ability and availability. Why not come along to our final indoor session on Sunday 29th April at Ashbourne Leisure Centre between 9 and 12 and find out more. 
Village events – what's coming up
Saturday 28 April concert in the hall
AYNSLEY LISTER       8pm
plus Box & Hounds wood-fired pizzas from 6.30pm
Regarded as one of the UK's finest proponents of rocking blues, this is a rare chance to see Aynsley Lister up close and personal in a stripped down, intimate setting.
Please note, tickets for the concert are now SOLD OUT (11 April).
Saturday 28/Sunday 29 April at the church   10 – 4pm
Anne Green Festival Community Art Event
Local artist Sue Prince will help us paint a map of the church and churchyard, illustrating their history and heritage – for more details of the festival events, click here.
Saturday 29 May – Car Boot Sunday – the first of the year (click here for a list of all dates in 2018).
Bank Holiday weekend 5-7th May 10 – 4pm at the church
Anne Green Festival –  refreshments and cream teas (in the churchyard if fine or inside the church if it rains). For more details of the festival events, click here.
Saturday 12 May concert in the hall – DAN WALSH TRIO       8pm
Nominated for best musician at last year's BBC Folk Awards, Dan Walsh performs British, Irish and American folk music, delivered with a healthy dose of funky grooves. With Ciaran Algar on fiddle and maestro Nic Zuppardi on mandolin. Buy tickets.
More details of future concerts  can be found on our events page here.  Please do book early as our concerts often sell out early (Jon Allen on 26 May and Amy Wadge on 20 October have both sold out already).
For other information about current activities including church services in Alstonefield and the surrounding parishes, you can find the 'Village Newsletter' (a PDF file) on this link.
History Group – visit to the National Memorial Museum at Alrewas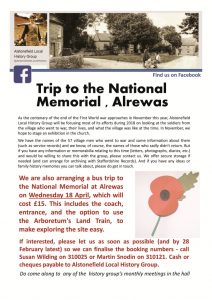 As the centenary of the end of the First World war approaches in November this year, the History Group will be focusing most of its efforts during 2018 on looking at the soldiers from the village who went to war, their lives, and what the village was like at the time. In November, we'll be staging an exhibition in the church. As one of our events, we are arranging a bus trip to the National Memorial at Alrewas on Wednesday 18 April. A few spaces are still available. For details, see the History Group page here.
St. Peter's Church
For details of April services please click here
Leaden boot
The Leaden Boot on 20 May is now fully booked.
Clockwinders at the Carol Supper 22 December 2017
You can watch a video of this extraordinary event on the Clockwinders page here.
Successful CPR learning week
We had a hugely successful few days in the village hall in November, when over 40 people (including children) from Alstonefield and other villages attended free sessions to learn the basics of CPR (cardiopulmonary resuscitation), how to use a defibrillator and how the Village Emergency Telephone System works.
Big thanks are due to the VETS volunteers who helped organise and run the sessions, and especially to the session leaders Meg Handscombe, Rob Handscombe and Carrie Ross (who also made special heart-shaped biscuits for well-earned sustenance!).
If you weren't able to attend but want an understanding of CPR (or need a refresher), you can watch the video we used for that part of the session on this link. For more information on CPR, defibrillators and VETS, click here and follow related links.
Staffordshire Farm Watch.
We're all aware of the rise in rural crime, particularly within the farming sector.
Staffordshire Police are working with local communities in the Moorlands area to tackle these issues and have set up a Facebook page to keep everyone up to date.
Please visit and 'like' their page at: https://www.facebook.com/StaffsFarmWatch/
If you see or hear anything suspicious, please call the police non-emergency number: 101.
You can also sign up to receive communications from the police by downloading this form: