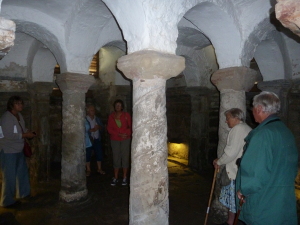 Outings: top row: part of the garden at Karibu, Woodleighton Grove, Uttoxeter; wildflower meadow at a garden in Chestnut Way, Repton; toasting the health of the happy couple; second row:  the crypt of St Wystan's Church, Repton.

  WHO WE ARE AND WHAT WE DO
The Group began in 2002 with the aims of helping and encouraging people in Alstonefield and the surrounding area to enjoy their gardening more and to enjoy time together with other gardeners.  Members come not only from Alstonefield but also from Wetton and Thorpe.  We are always delighted to have other people join us.
We meet monthly at members' houses for a shared lunch.  If the weather is kind, we look round the gardens and eat there, too, but, this being Britain, more often than not we have to meet and eat indoors.  However, we still enjoy the good food and good conversation – some of it about gardening!
Dates and venues are always to be found in the village newsletter, but for more information and/or to say what food you plan to bring to a lunch, please ring Brian and Lorraine on 01335 310353.
2016
This summer we only had one outing, but visited two neighbouring gardens – in Woodleighton Road, Uttoxeter.  We were amazed at the amount of work that had gone into turning two gardens which consisted of a grassy slope into fascinating areas full of winding paths, steps, streams and pools, plus a number of very interesting features.
 LOOKING BACK AT 2015
The most popular events in the calendar are our outings, when we visit private gardens that are opened under the NGS "Yellow Book" scheme, but which we choose to visit as a group when they are not open to the public.  We had two outings again for this summer.
On 21st May we visited two gardens in Dore, both of them quite delightful but very different from each other.  As usual we enjoyed talking to the garden owners almost as much as looking round their gardens – and of course we had ensured that both sets of owners were ready with lots of scrummy cakes for us to eat.
On 13th August we visited two gardens in Repton, again very different from each other.  Again the garden owners were quite delightful – we were especially pleased to find that the second garden owner, Louise Hardwick, who is a professional garden designer, had a garden that needed some work doing to it in various areas and that she was grateful for our advice on certain problems.  It made us feel much better about our own gardening efforts!
We ate our picnic lunch in the "quiet garden" of Repton's parish church, St Wystan's, washing our sandwiches down with glasses of champagne provided by John and Carrie to toast the health of the bride and groom, Katie and Tom, who were married on the previous Saturday.   Then, at John's suggestion, we explored the crypt which dates back to the early 8th century.  The guidebook says: 'Constructed perhaps as a baptistery, later a royal mausoleum, then a place of pilgrimage to St Wystan, it is one of the oldest and most important examples of Anglo-Saxon architecture to survive intact.   Sir John Betjeman described it as "holy air encased in stone".
This page is maintained by Lorraine Hawkins